by Col (Dr) Ben Findley
Springfield Armory XD-9 Mod. 2 Sub-Compact 9mm Review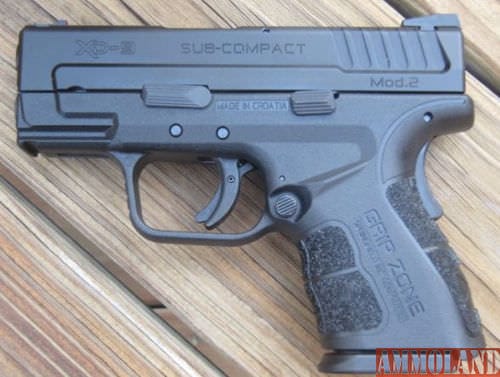 USA -(AmmoLand.com)- Shooters know that the proper grip on a handgun is very important for accuracy.
The handgun's grip should allow you to grasp it high on the backstrap, so you can have a secure and firm hold on the gun so it does not slip out of your hand and so that you can control recoil and muzzle flip. Certain areas of the gun should fit snugly around your fingers and other places should be a little more relaxed.
A comfortable and adhesive grip with just the right amount of texture stippling that does not irritate the hand is usually desired. Well, Springfield Armory recognizes this and has introduced an integrative grip concept with a very good stipling for a positive grip. This sub-compact Springfield Armory XD-9 Handgun is a striker-fired, semi-auto pistol that comes in 9 mm and .40 S&W versions. The Mod.2 version of it has some grip redesigns, among other features.
Springfield's Mod.2's redesign goal is to place the shooter's hand up higher in the grip for better control during shooting and with a grip texture that is softer and more comfortable to hold in 3 areas.
Here are the Springfield Armory XD-9 Handgun specifications and special features.
Springfield Armory XD-9 Specifications:
Action: SA Striker-Fired Semi-Auto
Caliber: 9x19mm; .40 S&W
Capacity: 13+1rds; 16+1rds with X-Tension
Grip Width: 1.19"
Weight: 26 oz. with Empty Mag
Length: 6.25"
Height: 4.75"; 5.5" with X-Tension
Barrel: 3" Hammer Forged
Slide: Forged Steel Melonite Finish
Frame: Polymer
Sights: Fiber Optic (Green & Red Rods) Front & Low Profile Combat Rear
MSRP: $565 (Black); $599 (Bi-tone)
Special Features:
3 Grip Zones
High-Hand Grip Relief and Beavertail – to help reduce felt recoil
Red (and green rod) Fiber Optic Front Sight & Low-Profile Combat Rear Sight- for faster target acquisition
Slimmed Slide- for concealability & comfort
Ultra Slim, Contoured Frame
Slim & Contoured Disassembly Lever
No-Snag Trigger Guard
Posi-Wedge Slide Serrations- more pronounced Rear Serration for easier Slide Racking
The Grip Zone- 3 Zones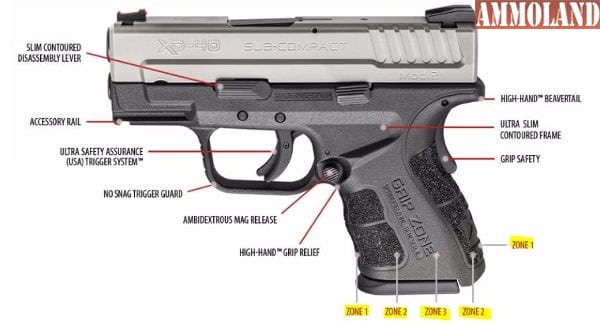 The new Springfield Armory XD-9 Handgun Mod. 2 is designed to improve the shooter's grip experience with the "Grip Zone." This is certainly understandable and necessary, but wonder why they wrote the obvious term "Grip Zone" molded into the grip? Springfield defines the "Grip Zone" as every surface on the frame that makes contact with your hand. There are three different textures of grip material which are molded into specific parts of the grip (3 Zones) where slip-resistance and various degrees of friction contact are most critical. So shooters could tend to have more traction that varies by the location of the frame's grip surfaces.
You decide if this is just a gimmick or not.
The sincere idea of the ergonomic grip improvements at 3 locations is to give shooters more traction on the different grip surfaces, while applying less force on the frame. You can also notice that the Mod.2 has a deeper curve at the top of the grip, so you naturally place your hand higher onto the grip for improved control when shooting. The re-contoured grip allows this and could result in less hand fatigue.
With the softer texture of the Grip Zone versus the XD, combined with the less aggressive stippling and finger grooves on the Mod.2's grip, make the new XD a little more comfortable for me. What about for you?
In addition to the Grip Zone texture treatments, Springfield has also re-contoured the grip and reduced the frame's circumference. Overall, its 1.19 inch grip width measures one tenth of an inch thinner than the original XD Sub-Compact. Other changes to the frame include a rounded trigger guard and a slim-contoured disassembly lever. While many dimensional changes were applied to the new design, the XD Mod. 2 Sub-Compact maintains compatibility with original XD magazines and holsters.
Springfield Armory XD-9 Handgun Safety Features
The Safeties of the Springfield Armory XD-9 Handgun Mod. 2 are like the original XD version and include a grip safety and trigger safety, along with a striker-status indicator and loaded chamber indicator.
Springfield Armory XD-9 Handgun Range Test
At the range, I shot about 150 rounds of various FMJ and HP ammo of 115 and 124 grain weights at close-up distances of 5, 7, and 10 yards.
You should know that Springfield is not paying me for my review or opinions nor for my ammo, so I am not on their payroll for any reason. One caveat we all recognize is that ANY gun should be "broken-in" with about 400-500 rounds or so fired for a better evaluation of its performance. So recognize that I did not shoot that many rounds. Remember, the gold standard is for you to actually shoot and handle the gun and learn your accuracy with it and things about it, like I did. Let me say up front that for me for ANY gun, ACCURACY and RELIABILITY are most important. Closely related to that is the handgun's trigger, so I focused on it and its characteristics and control.
I used my Lyman Electronic Digital Trigger Pull Gauge and averaged readings to measure the press. See results below. Additional factors considered were fit and comfort to my hand and fingers, gun weight, felt recoil, gun width and height for easy concealability, caliber, capacity, safety features, and appearance. Overall length was not a major criteria, except for its relationship to sight radius and reduction of felt recoil. Cost was not a factor.
Here's what I discovered after shooting and handling the Springfield Armory XD-9 Mod. 2 Handgun:
(1) The accuracy and reliability were very good for me at close distances of 5, 7, and 10 yards. My rapid-fire groups were all 4.0 inches or less for the first time I ever fired the gun "out of the box" drawing from the holster it came with in the hard case. At 5 yards my groups were 3 inches for this old geezer. I used a Modified-Isosceles Standing Stance, a two-handed grip, and shot 115 grain FMJ and 124 grain HP. Not great marksmanship, but acceptable to me. I had no malfunctions nor stoppages whatsoever.
(2) Trigger press out of the box averaged 6.5 pounds without modification, within Springfield's range of 5.5 to 7.7 and over 10 readings with my Lyman Electronic Trigger Pull Gauge. For comparison out-of-the-box, my Sig 938 has a 7.1 pound press; the Springfield XDs has a 7.2; my Ruger SR9C, Glock 19, M&P Shield, M&P 9C, and Taurus G2 all have about a 6.0 press; my Springfield EMP a 5.8; my Ruger LC9s has a 5.2 press; and my Colt XSE Commander (.45), Kimber (.45), Sig (.45), S&W Pro 1911 (9mm) and Taurus (9mm) 1911s have about a 4- 4.5 pound press each.
Although my brain is my best safety, I do not want a too light trigger for concealed carry, nor do I want a heavier one either. All of these are close to my desired range. I do like between a 4 and 6 press for my primary carry gun.
(3) The trigger was smooth, crisp and very good. It had a short travel distance and short, identifiable reset, so I could get off quick follow-up shots easily and keep on target easier. The reset was identifiable.
(4) A striker-fired trigger made for consistent and reliable shooting with pretty much the same press each time. It was a harder press that I am accustomed to, since I mostly shoot 1911s and single actions.
(5) My "Older-than-Dirt" eyes really like the fiber optic front sights, especially in green because of my color-blindness. It came with both green and red fiber optic rods.
(6) Weight of the gun was almost exactly 26 ounces without a magazine in place and this is manageable for concealed carry. I like a slightly heavier gun for better recoil control, comfort, and accuracy.
(7) The 9mm was just the right caliber for me for carry and I strongly prefer it, as you probably know from the reasons in my other articles. So the XD-9 Mod.2 met this requirement. I believe that a shooter should:
Choose the highest caliber handgun that they can comfortably shoot AND make fast, ACCURATE followup shots with. This applies for concealed carry, self defense, home defense, and even competition. Of course, you want a gun that you like, can control, and WILL carry and not leave at home, if carrying concealed. A very personal and individualistic choice!
(8) The width of the XD-9 Mod. 2 measured 1.19 inches and one should wanted less width for carry, given medium-sized hands. The grip angle was fine, better than my Glock 19 for me. The Glock 19 has a 1.18 inch width.
(9) Capacity of the XD-9 sub-compact is 13+1 with the standard flush fit mag or 16+1 with the X-Tension mag. For carry, I would use the 13 rounder. It has an ambidextrous mag release.
(10) The height of the XD-9 sub-compact with standard flush mag measured 4.75 inches, compared to my M&P-9C at 4.3 inches, my SR9C at 4.6 inches, my LC9S at 4.5 inches, my EMP at 4.8 inches, my Glock 19 at 5.0, my Taurus G2 at 5.1 inches, my HK P30 at 5.4, and the M&P Shield at 4.6 inches. All are acceptable for concealed carry, with the smaller numbers, of course, being more advantageous.
(11) It comes with a nice hard plastic case which includes a holster, 2 magazines (13 round and extended 16 round), a double mag pouch, loader, red and green fiber optic replacement rods, a lock, bore flag, and manual.
There are a lot of attributes to consider and you make your own trade-offs according to your priorities and defined needs and use.
I RECOMMEND this Springfield-Armory XD-9 Mod.2 9mm pistol, based on the above criteria and information.
The author hopes this review has given you some information you did not have about the new Springfield-Armory XD-9 Mod. 2 9mm striker-fired, sub-compact pistol. It is a very nice striker-fired pistol, but decide for yourself based on your desired features, the gun's attributes, trade-offs, and your use and needs, but TRY IT BEFORE YOU BUY, like any possible handgun purchase.
Continued success!
Further information is available at: www.Springfield-Armory.com.
Photos by Author and Springfield-Armory.
Note: This personal opinion article is meant for general information & educational purposes only and the author strongly recommends that you seek counsel from an attorney for legal advice and your own personal certified weapons trainer for proper guidance about shooting & using YOUR firearms, self-defense and concealed carry.

It should not be relied upon as accurate for all shooters & the author assumes no responsibility for anyone's use of the information and shall not be liable for any improper or incorrect use of the information or any damages or injuries incurred whatsoever.

© 2016 Col Benjamin Findley. All Rights Reserved. This article may not be reprinted or reproduced in whole or in part by mechanical means, photocopying, electronic reproduction, scanning, or any other means without prior written permission. For copyright information, contact Col Ben Findley at [email protected]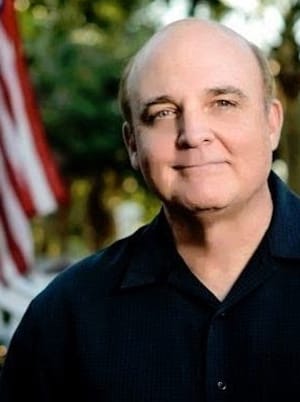 About Ben Findley:
"Col Ben" is retired with 30 years service in the U.S. Air Force, with joint services Special Ops duty and training, and is Air Force qualified as "Expert" in small arms. Ben is an experienced NRA-Certified Pistol Instructor, NRA Range Safety Officer, and FL Concealed Carry License Instructor.
Ben recently wrote the book "Concealed Carry and Handgun Essentials for Personal Protection" with 57 comprehensive Chapters about concealed carry and handgun principles, techniques, and tips for both experienced and new shooters.
His reference book is endorsed by several organizations and is available on his website at www.FloridaHandgunsTraining.com. Contact him at [email protected]