By Ilana Mercer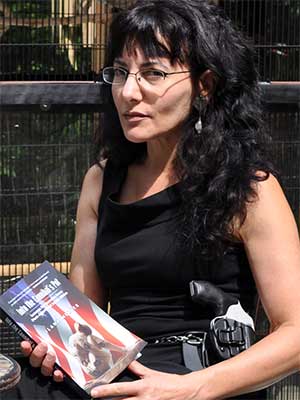 United States -(AmmoLand.com)- In his August 20 2015 rally in Fredericksburg, Va., Donald Trump continued to say things surprisingly basic.
Or, "insubstantial," if you believe the presstitutes (with apologies to prostitutes, who do an honest day's work and whom I respect). I paraphrase:
We are going to take our country back.

It is going to be a new day in America. It is going to be a great day in America.

Government will listen to the people again. The voters, not the special interests, will be in charge. Ours will be a government of, by, and for the people.

Our economy will grow. Jobs will come back. New factories will stretch all across the nation.

Families will be safe and secure. Crime will go down. Law and order will be restored to these United States of America.
In Charlotte, NC, on August 18 216, Trump spoke of embracing weeping parents whose kids were killed by illegal immigrants. Immigration laws will be enforced, he promised. Make every city a Sanctuary City for Americans, not their killers (OK, the last line is mine).
We're going to reject globalism and put America first. The era of national building is over.
And again: It's going to be America first from now on; we're going to put country first, our American workers first, our people first. Trade deals will protect the American worker again, roared Trump.
It's hard to keep up with all the impassioned addresses the high-energy Mr. Trump has given in the last week. However, his law-and-order speech in Charlotte was especially phenomenal, because so very basic:
One thing I'll promise you, I will always tell you the truth. I will speak on behalf of the voiceless, return the government to the people; give the people their voice back. I will never let you down.

Let our kids be Dreamers too, suggested Trump. He was alluding to the affectionate legislation and terminology developed by the New York-Washington axis of power for its young, illegal-alien protégés.
In Trump you have a political outsider, despised by the media-congressional-donor complex, talking to the multitudes living in Rome's provinces and groaning under the burden of its policies. To this voiceless Common American is Trump vowing to give a voice.
Also in Charlotte, Trump said he'd never put special interests before American interests, pointing out that none controlled him. "My only interest is the American people."
And from West Bend, Wisconsin, where Trump materialized on August 16 2016, he declared: "I'm with you, the American People. We'll once again be a country of law-and-order and unparalleled successes. I'm with you; I'll fight for you; I'll win for you."
The American scheme of government was meant to be pretty basic—more about what government was to refrain from doing to its people than what it was to do for them. America's Silent Majority is hankering for pitifully fundamental things from a government that has forgotten this.
As I argue in "The Trump Revolution: The Donald's Creative Destruction Reconstructed," Trump is no "visionary vis-à-vis government." If anything, "he is practical and pragmatic. He wants a fix for Americans, not a fantasy."
In "The Trump Revolution," I attempted to place this hankering for things simple and universal within a uniquely American framework. This led me to posit a thesis invoking a concept developed by one of America's greatest political thinkers, in the estimation of historian Clyde N. Wilson. The concept is that of the concurrent majority. The thinker is John C. Calhoun. …
Best to all,
ilana
Author, The Trump Revolution: The Donald's Creative Destruction Decontructed (June 2016)
Columnist, The Unz Review (America's smartest webzine)
Fellow, The Jerusalem Institute for Market Studies
Founder, www.ilanamercer.com.
About Ilana Mercer:
Ilana Mercer is a paleolibertarian writer, based in the U.S. She pens WND's longest-standing, exclusive paleolibertarian column, "Return to Reason." Mercer contributes to The Unz Review, America's smartest webzine, and is a fellow at the Jerusalem Institute for Market Studies, an award-winning, independent, nonprofit, free-market economic policy think-tank. Her latest book is "Into the Cannibal's Pot: Lessons For America From Post-Apartheid South Africa." ( tiny.cc/lwu67x )  Mercer's website is IlanaMercer.com.. She blogs at www.barelyablog.com.