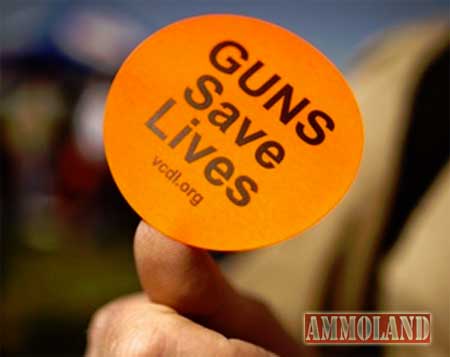 Virginia – -(Ammoland.com)- The first day of Steppin' Out was rainy, so the crowds were thin. The second day we were busy for the full 10 hours. We handed out well over 1,000 GSL stickers. Like the National Night Out event, the number of GSL stickers in the crowd vastly dwarfed the stickers the antis had.
Besides of myself, the following people worked the booth and I thank them: John Wilburn, Dave Hicks, Dave Knight, Chris Rakes, Charlie Whiting, Jared Rigney, Justin Melvin, Mike Parker, and Les Harcum.
The antis were their usual hateful selves. One woman working the anti's booth could only glare at us with pure hatred in her eyes. One of the men was watching us about 30 feet away, moving around erratically, trying to get our attention. I looked over at him and he made an unfriendly finger-gesture at me. I smiled at him and he literally stomped off in anger. (After having been a deputy sheriff years ago, I have long had a "sticks and stones" attitude about being called names or having obscene gestures made at me. Doesn't bother me at all.)
I must say that I had to laugh when I saw the anti's "Disarm Hate" sticker. I agreed with the sentiment, but found it hilarious that the most hateful people at the event didn't see the irony in their own sticker!
EM John Wilburn headed up the event and sent me his report:
Despite some soaking rain on Friday, VCDL had a good outing at the 36th annual Steppin' Out in Downtown Blacksburg! Set-up was smooth and uneventful.

Not long after opening a well-known local anti that often works with the Demanding Moms, came down to ask one of our volunteers questions and video it with her phone. She later walked by our booth appearing to be taking video and childishly yelling at us to "Get back in your booth space!" and saying she was going to report us to Laureen Blakemore, the festival director. She then talked to some nearby police while pointing at our booth, but they just shrugged.

For the record, none of our volunteers had more than a foot's length forward of the canopies that mark our space and, as always, were well behaved and followed the rules. Perhaps, she was jealous of the fun, dynamic, and interactive booth we have, since her booth must have been a chore to sit at all day. [PVC: To make the point, the antis opened their booth late each day and closed it early, while we were there the full time.] After taking more pictures of our booth and watching us a few more times, she disappeared.

We received one obscene gesture from another local anti, but other than a few unkind remarks from passers by, this year was calmer than years past. That was it for negatives. It seems like the Blacksburg community is welcoming us more each successive year and only a few ill-tempered, intolerant antis don't want to accept that. We had many people coming by the booth telling us they get a sticker every year, like its now a tradition. The VCDL booth has become its own draw for the festival.

With the entertaining antis' antics in the rear view mirror, we continued to have a great time. We covered the festival goers in GSL stickers, greatly outnumbering all the other stickers combined. There were more varieties of stickers this year. In addition to the original rip-off "Background Checks Save Lives", there was a multi-colored "Guns Kill" and some really wordy sticker that gave a stat about children and guns, but I never got a chance to read all of the words on any of the very few floating around. A rainbow-themed sticker read "Disarm Hate". Planned Parenthood's booth even had a sign that read, "Good Sex Ed Saves Lives". What can I say… Imitation is the sincerest form of flattery!

The event staff was courteous and helpful. The Blacksburg police had a strong presence and were very professional, as always. The event logistics within the town were very well run.

Steppin' Out In Blacksburg VA A Success For Virginia Citizens Defense League
About Virginia Citizens Defense League, Inc. (VCDL):
Virginia Citizens Defense League, Inc. (VCDL). VCDL is an all-volunteer, non-partisan grassroots organization dedicated to defending the human rights of all Virginians. The Right to Keep and Bear Arms is a fundamental human right.
For more information, visit: www.vcdl.org.