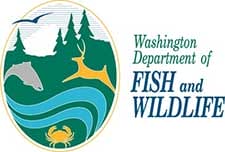 Olympia, WA -(AmmoLand.com)- The Washington Department of Fish and Wildlife (WDFW) today halted efforts to lethally remove members of a wolf pack in Ferry County, but will restart the operation if there is another confirmed wolf attack on livestock.
State wildlife officials shot and killed two members of the Profanity Peak wolf pack from a helicopter Aug. 5 after confirming five wolf-caused cattle mortalities since mid-July on the rangelands between Republic and Kettle Falls.
Since Aug. 3, when the last of those attacks was confirmed, WDFW has found no evidence of any additional depredations by wolves in that area, said Donny Martorello, WDFW wolf policy lead.
"The goal of removing some wolves from the pack was to stop wolf attacks on area cattle herds," Martorello said. "The last confirmed depredation by the pack was two weeks ago, but we are prepared to resume operations to remove wolves if monitoring efforts confirm new attacks."
WDFW staff will continue to track the wolves' movements by monitoring GPS signals from radio-collars attached to two pack members, he said.
During the two-week removal operation, WDFW officials used those signals to find wolves from the air, set traps and pursue them on the ground, Martorello said. These efforts became increasingly difficult in the second week, when the wolves withdrew to a heavily timbered area of the Kettle River Range, he said.
The Profanity Peak wolf pack is one of 19 known wolf packs in Washington state. Earlier this summer, WDFW determined that the pack had at least 11 members, including six adults and five pups.
WDFW Director Jim Unsworth authorized the lethal removal of some members of the Profanity Peak pack after staff biologists confirmed that wolves had killed at least four cattle – a cow and three calves. WDFW field staff confirmed a fifth fatal wolf attack on a calf that same day, and found it "probable" that the pack also killed three other calves earlier this summer.
Unsworth said the department's action was consistent with both the state's Wolf Conservation and Management Plan and a new protocol for the lethal removal of wolves, developed this year by WDFW in conjunction with an 18-member advisory group composed of environmentalists, livestock producers and hunters.
"This department is committed to wolf recovery, and for that reason we have a shared responsibility to protect livestock from repeated depredation by wolves," Unsworth said. "Maintaining public tolerance for wolves sometimes requires lethal measures, and we are prepared to respond if we confirm another wolf attack in the area this year."
The two wolves killed this month were a breeding female and another adult female wolf.
Martorello said wildlife officials did not target the breeding wolf, but there is no way to identify the breeding animals during a removal operation.
"The pups are weaned at this age, so the loss of the breeding female is not likely to affect their survival since the remaining adults will provide them with food," Martorello said.
The cattle killed by members of the Profanity Peak pack in recent weeks belonged to two ranchers who had taken preventive actions to deter attacks by wolves, Martorello said. Both have range riders keeping watch over their herds and sanitation measures in place to avoid attracting wolves. One rancher also turned his calves out to pasture at a higher weight as a defense against predators, Martorello said.
Other provisions state that:
The department must confirm four or more wolf depredation events on livestock within a calendar year, or six or more confirmed such events within two consecutive calendar years.
Wolves must have killed, not just injured, livestock in at least one of those confirmed depredation events.
WDFW must expect depredations to continue without taking lethal action to stop them.
The department must notify the public about the pack's activities and related management actions.
The new policy is available at: wdfw.wa.gov/conservation/gray_wolf/livestock/LethalRemovalProtocolGrayWolvesWA.
WDFW is preparing a complete report on the recent action, including information about staff recommendations, the director's decision, and wolf removal activities.
The removal of two wolves from the Profanity Peak pack marks the third time that WDFW has used lethal measures to address repeated depredations on livestock since 2008, when the first pack was confirmed in Washington state. A total of 10 wolves have been removed through those actions.
During that time, the state's confirmed wolf population has grown from two wolves in one pack to at least 90 wolves and 19 packs by early 2016.
Additional information about wolf packs and WDFW management actions is available at http://wdfw.wa.gov/conservation/gray_wolf/.
About WDFW:
WDFW is dedicated to preserving, protecting and perpetuating the state's fish and wildlife resources. The department operates under a dual mandate from the Washington Legislature to: Protect and enhance fish and wildlife and their habitats. Provide sustainable, fish- and wildlife-related recreational and commercial opportunities.
For more information. visit: www.wdfw.wa.gov.