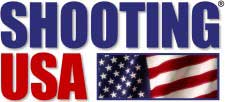 USA – (AmmoLand.com) – Thanks to Hollywood, Fast Draw competition is thriving, now in the 60th year. The Cowboy Fast Draw Association hosts the annual shootout to find the Fastest Gun Alive.  It's a race between the top gunfighters in each category, men, women and children, against a 24-inch steel plate, 21 feet away. Scores are measured in thousandths of a second, and each year the times get faster.
Plus, youngsters shoot steel! The Scholastic Action Shooting Program expands to more and more teams participating in the steel-shooting event at the National Championships in Sparta, Illinois.
And the straight-pull, bolt action rifle, the Mannlicher 95, is now one of History's Guns. Tune in Wednesdays to Outdoor Channel!
AIR TIMES BY TIME ZONE
The Shooting USA Hour Wednesday:
Eastern Time: 9:00PM, 12:30 AM, 3:00 AM (Thurs.)
Central Time: 8:00 PM, 11:30 PM, 2:00 AM (Thurs.)
Mountain Time: 7:00 PM, 10:30 PM, 1:00 AM (Thurs.)
Pacific Time: 6:00 PM, 9:30 PM, Midnight
Shooting USA is listed as a one-hour show in your cable menu.
Stay Connected!
Be sure to "Like" Shooting USA on Facebook for behind-the-scenes action, and "Follow" us on Instagram too.
About Shooting USA:
Jim Scoutten, America's Most Watched Firearms Reporter, has been on the beat for 24 years, reporting the stories of the Shooting Sports and the firearms Industry. The show produces a series of popular segments focusing on historical guns, the personalities in the sport and industry, insider reports from gun tests, and practical tips from shooting sports pros. The show appeals to shooting sports enthusiasts of all ages and skill levels by providing practical tips on safely handling, modifying and repairing their favorite guns.
For more information, please visit www.ShootingUSA.com.