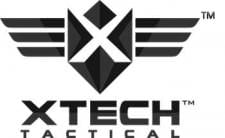 Mesa, AZ -(AmmoLand)- XTECH Tactical, manufacturer of the Advanced Tactical Grip is today introducing two new products for the HK VP9 pistol. First up is the new 5rd Magazine Extender for HK VP9 Pistol magazines.
The XTECH Tactical mag extender adds an additional 5 round capacity to the VP9 magazine for a 20 round total. The mag extender is super simple to install with absolutely no tools needed.
Jeremy Deadman, Director of Sales and Marketing for XTECH Tactical explains how they have eliminated reliability concerns that plague many other mag extenders.
"The biggest thing for function is that we have a 100% consistent ID within the extender portion AND the ID within the extender is less than the ID of the magazine. The benefit here is that it is impossible for the extender to cause a Fail to Feed which is a known issue in extenders."
The XTECH Tactical VP9 5rd Mag Extender is now shipping with an MSRP of $29.95 with FREE SHIPPING through the end of August. http://www.xtechtactical.com/mtx-vp9p30-5-magazine-extender-with-spring/ Not available for sale in NY, CA or MA.
Additionally, XTECH Tactical will be offering complete XTECH Tactical VP9 magazines with and without the Mag Extender. The XTECH Tactical VP9 magazine will feature a 310 Stainless Steel body vs H&K's Spring Steel body. It will also feature an extra round indicator hole to show the 20th round as shown in the photo below.
The XTECH Tactical 20 and 15 Round VP9 magazines will start shipping early this fall. The 20 Round magazine MSRP is $59.95 and the 15 Round magazine is $34.95. Not available for sale in NY, CA or MA.
If you would like more information about this topic, please contact Jeremy Deadman at [email protected]
About XTech Tactical
In 2013, XTech Tactical was formed to develop revolutionary firearms accessories for the AR style rifles and other small arms. The XTech Tactical founding members bring over 50 years of combined design-for-manufacturing and quality control experience. Collectively they are listed on over 35 US and International Patents, and have been part of taking hundreds of products from concept through production. Years of experience allows XTech Tactical to continuously introduce high quality, durable, and innovative products to the market. Its first release, the ATG grip, is an adjustable angle AR grip which easily adjusts to the three ideal angles of an AR style pistol grip. Each angle functions without any compromise on weight, durability or comfort, making it the ideal grip for all shooting stances or styles.
For more information, visit: www.XTechTactical.com.