By Ilana Mercer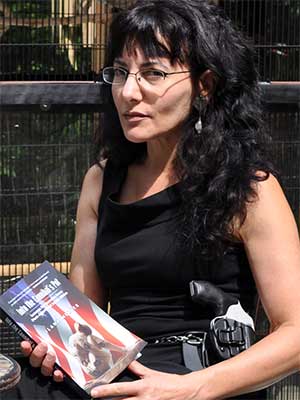 USA – -(Ammoland.com)- "First She Scoffs At The Country, Then She Coughs All Over It" is my first YouTube attempt, now on The Unz Review, America's smartest webzine. Here's an excerpt from the text, which you can read in full at The Unz Review:
How does evidence against something, become evidence for that very same something?
Plain evidence against the good health of Hillary Clinton has become, with the aid of the malfunctioning media, evidence for her stamina.
"She has the constitution of a boar," said a defender on Fox New, following Mrs. Clinton's very pubic collapse at the 2016, 9/11 memorial. "She powered through it all," parroted the rest.
"Pneumonia blows over like the flu" was the consensus on MSNBC, as they collected affidavit after affidavit from their reporters to swear to how humid, crowded and uncomfortable it was for Hillary on that fateful, New-York day.
"Probably nothing," said that no-good neurologist Sanjay Gupta, at CNN, mere hours before the news of Clinton's pneumonia broke.
How does a display of faltering health from Hillary become a reason to doubt the stamina of a man, Donald Trump, who's like The Incredible Hulk?
Like magic, Trump materializes at multiple events a day, hops from Mexico to Louisiana, and seems to be having fun while at it. "Give me more," his whole countenance seems to scream.
Then there's the sexism angle (where, in the YouTube video that accompanies this short text, the writer is forced to reach for some "Dutch Courage"): How is it that we hold a female presidential candidate with pneumonia to a different standard than a male presidential candidate without pneumonia?
Now there's a no-brainer. …
… The rest is on The Unz Review.
Subscribe to my new YouTube channel. This shy, retiring writer/thinker promises to get better at it.
Best to all,
ilana
About Ilana Mercer:
Ilana Mercer is a paleolibertarian writer, based in the U.S. She pens WND's longest-standing, exclusive paleolibertarian column, "Return to Reason." Mercer contributes to The Unz Review, America's smartest webzine, and is a fellow at the Jerusalem Institute for Market Studies, an award-winning, independent, nonprofit, free-market economic policy think-tank. Her latest book is "Into the Cannibal's Pot: Lessons For America From Post-Apartheid South Africa." ( tiny.cc/lwu67x )  Mercer's website is IlanaMercer.com.. She blogs at www.barelyablog.com.