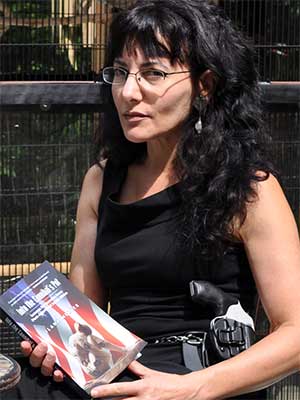 USA -(Ammoland.com)- Following Donald J. Trump's sublime immigration address, critics—essentially all Big, Crooked Media—charged that Trump's Arizona speech represented a sharp departure from the tone he took earlier that day, with Mexican President Enrique Peña Nieto.
A reversal, if you will.
Nonsense. With President Nieto, Donald Trump was at once patriotic, forceful and diplomatic.
In close to two decades of analyzing American politics, I've yet to hear an American leader address his Mexican counterpart as forcefully as Mr. Trump addressed President Nieto. Trump came across as a man-of-the world, to whom interfacing with foreign dignitaries was second nature.
It's always been the case that Americans in power collude with Mexicans in power to bully and manipulate a powerless American People into accepting the unacceptable:
The imperative to welcome torrents of unskilled illegal aliens, at an incalculable cost to the safety of America's communities, the solvency of its public institutions, and the sustainability of the environment.
Strolling through the ancient Mayan and Toltec ruins with President Vincente Fox, in 2006, George W. Bush was not talking-up American interests. He was plotting amnesty with an unholy trinity comprised of John McCain, Ted Kennedy and Arlen Specter. Sly Fox was the silent partner.
Most memorably, Bush, who would wrestle a crocodile for a criminal alien, went on to indict and viciously prosecute two brave border-patrol agents, Ignacio Ramos and Jose Compean. For shooting a drug dealer in the derriere—in the process of defending their countrymen—Bush unleashed his bloodhound, U.S. Attorney Johnny Sutton, on the two patrolmen and jailed them.
So what a pleasant surprise it was for this long-time political observer to witness a Mexican president, clearly cowed by The Donald, make no mention of America's bogus obligation to take in Mexico's tired, poor, huddled masses yearning for U.S. welfare.
If President Nieto harbored the urge to make manipulative appeals to American "permanent values," so as to lighten his political load—there was no evidence of it. It's fair to infer that on that occasion, a show of unparalleled strength and patriotism—Mr. Trump's—extinguished the bad habit.
The biblical proverb worked:
Act like a fearless lion before an adversary, and the adversary will retreat. …
… Read the rest. "Trump's Not Yet President, But Nieto Is Already Saying, 'Si Se Puede'" (http://tiny.cc/ywtney) is the current column, now on Townhall.com.
Best to all,
ilana
Author, The Trump Revolution: The Donald's Creative Destruction Decontructed (June 2016)
Columnist, The Unz Review (America's smartest webzine)
Fellow, The Jerusalem Institute for Market Studies
Founder, www.ilanamercer.com.
About Ilana Mercer:
Ilana Mercer is a paleolibertarian writer, based in the U.S. She pens WND's longest-standing, exclusive paleolibertarian column, "Return to Reason." Mercer contributes to The Unz Review, America's smartest webzine, and is a fellow at the Jerusalem Institute for Market Studies, an award-winning, independent, nonprofit, free-market economic policy think-tank. Her latest book is "Into the Cannibal's Pot: Lessons For America From Post-Apartheid South Africa." ( tiny.cc/lwu67x )  Mercer's website is IlanaMercer.com.. She blogs at www.barelyablog.com.