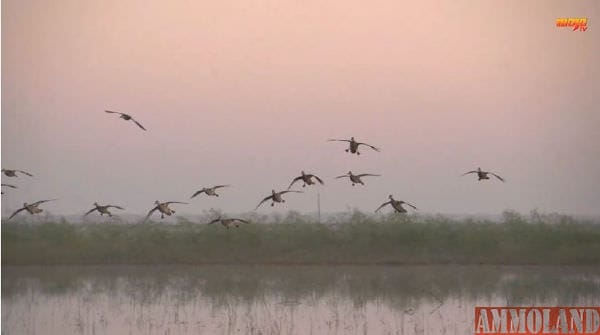 Monroe, LA -(AmmoLand.com)- MOJO TV starts their 4th Quarter of their milestone 10th season this week in the Waterfowl Block on Sportsman Channel.
Using the highest quality filming and production techniques, including slow motion and aerial drone views, all intended to allow the viewer to tag along with the MOJO Crew on exciting hunts around the world and share their expertise of waterfowl and wing shooting.
The 4th Quarter of MOJO TV will continue to bring its viewers diverse and action-packed hunts. This show is filmed and produced by some of the most talented in the business and the attention to detail of each and every hunt will leave you speechless. One of the goals of MOJO TV is to bring no-nonsense, "real hunting" to TV and to share their experiences in the hunting fields with all hunters.
Hunts this Quarter will feature waterfowl and wing shooting from Canada to South America and allows the viewer to step into the boots of the Crew as they set up for local conditions and especially as they adjust during the hunt to accommodate actual conditions in the field. A great learning experience.
Brought to you by the Team that changed forever how we hunt waterfowl and other game, MOJO TV sets itself apart as it is hosted by a pair of Outdoor Hall of Famers: Terry Denmon and Mike Morgan.
Terry and Mike have a combined over 100 years of hunting experience in all types of hunting and they apply that experience to all types of hunts and bring educational and relatable tips for every hunter, new and seasoned.
As the world leader in motion decoys, the MOJO® TV crew has the opportunity to experiment with different products and methods that help all of us hunters be more successful and enjoy our country's great outdoors.
From tips on using equipment to guidelines on setting up to take best advantage of current weather and local conditions to species and other waterfowl data, watch it all unfold on MOJO® TV.
Watch the fourth quarter trailer here: https://www.youtube.com/watch?v=Gi4JeInWD7Y.
New episodes premiere on Saturdays at 3:30 PM ET/2:30 PM CST on Sportsman Channel.
Go to www.mojooutdoors.com to see all air times plus episode descriptions.
About MOJO Outdoors:
MOJO has long been recognized as the World Leader in Motion Decoys and progressed as the leader in All Decoys. Today, MOJO is a company unsurpassed in bringing a wide variety of innovative outdoor products to the market that revolutionizes the outdoor experience.
See more at http://www.mojooutdoors.com.