GRNC is critically short on funds to get out as many as 150,000 voter guides. With November elections around the corner, time is short!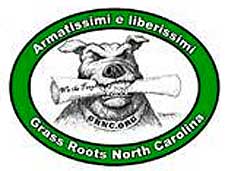 Raleigh, NC -(Ammoland.com)- Anyone that makes a payment of $100 or more to Grass Roots North Carolina (GRNC) for membership dues, renewals and donations will receive an autographed copy of John Lott's new book 'The War on Guns'.
If the payment is $200 or more, the inscription from John Lott will be personalized.
If you are already a member, we encourage you to buy gift memberships for others. The membership promotion is valid through October 15. Membership dues and donation payments can be made at http://grnc.org/join-grnc/contribute.
Note: If you do multiple purchases in one transaction, please send an email to [email protected] stating the name of each person for which a membership was purchased and each purchase amount. GRNC will go back and manually verify that you qualify. If you use the same credit card to multiple transactions within a certain period of time, it will reject the second transaction as a duplicate. You can either use a different card, or you can wait a short time before making the second purchase.
About Remember in November
If you are a new GRNC member who has not yet used GRNC's "Remember in November" voter guides, you will soon experience the most comprehensive, objective and accurate candidate evaluation system in the state, perhaps the country. Like a "AAA Guide" to political candidates, "Remember in November" tells you who supports your gun rights. GRNC candidate evaluations are even used by non-partisan "Project Vote Smart."Getting 150,000 voter guides into the hands of gun-owning voters is no small task, taking the work of dozens of volunteers and upwards of $40,000. But absent an immediate legislative threat, gun owners have apparently gone to sleep. Memberships and donations are down, meaning there is a chance GRNC will not be able to complete the full "Remember in November" project.
As one other organization is fond of saying, "Your membership dues are not enough." Without additional donations and memberships, we will have to scale back the project. Therefore, we are asking you to:
Take advantage of the promotion we are offering with John Lott's new blockbuster, The War on Guns; and Volunteer to distribute voter guides. Membership dues and donation payments can be made at http://grnc.org/join-grnc/contribute.
How GRNC evaluates candidates
Unlike "the other gun rights organization," GRNC doesn't make "deals" for candidate ratings: A candidate gets what he or she earns, no more, no less. The candidate's history of votes on gun legislation, bill sponsorship, bill support and survey scores are entered into a database which estimates the percentage of the time they can be expected to agree with a control group of our own Life and Benefactor members. A candidate who agrees at least 90% of the time gets a 4-star evaluation (GRNC ****); 80% gets 3 stars (***), 70% gets 2 stars (**); 60% gets 1 star (*) and under 60% gets a (0-star) evaluation. Gun votes are weighed more heavily than any other measure. Each measure (survey, votes, bill support) is shown as a percentage in the guide.
Making evaluations easy to use
I often tell Second Amendment neophytes: "Lest you presume the political process is designed to exclude you, let me assure you that it is." You don't have time to track politicians, and political weasels know it. "Remember in November" is designed to make it easy for you to participate in the process.In October, you will receive a mailed "Remember in November" voter guide containing all candidates in covered races for state and federal office across North Carolina, formatted into a guide that folds down to a brochure you can place into your pocket and take to the polls. To use it, you don't even need to know your district number.
Candidates are arranged alphabetically, meaning you need only compare the names in the guide with what you find on your ballot. For voters who want information by district, GRNC's web site (www.GRNC.org) will contain downloadable sorts either by last name or by district.
Membership dues and donation payments can be made at http://grnc.org/join-grnc/contribute.
Latest blockbuster from researcher John R. Lott: 'The War on Guns: Arming Yourself Against Gun Control Lies'
Get a copy autographed – and personalized – by Dr. Lott himself!
When it comes to the gun control debate, there are two kinds of data: data that's accurate, and data that left-wing billionaires, liberal politicians, and media want you to believe are accurate.
In The War on Guns: Arming Yourself Against Gun Control Lies (Regnery Publishing; $27.99; 978-1621575801), nationally-renowned economist John R. Lott, Jr. turns a skeptical eye to well-funded anti-gun studies and stories that perpetuate false statistics to frighten Americans into giving up their guns.
Democrats are using the terrorist attacks in San Bernardino and Orlando to justify their skewed anti-gun rhetoric, when guns are not the issue at all. The resurgence of the Black Lives Matter movement brought about a mass shooting of its own. Again, Democrats blamed the act of violence and racial hate on guns.
As Lott clearly proves, guns are not the problem
With the nation divided on this hot-button issue of gun control, the upcoming presidential election is more important than ever. In a recent speech, Hillary Clinton vowed to revoke Americans' right to own guns, saying, "The Supreme Court is wrong on the Second Amendment, and I am going to make that case every chance that I get."
In this, his latest and most important book, The War on Guns, Lott offers the most thorough debunking yet of the so-called "facts," "data," and "arguments" of anti-gun advocates, exposing how they have repeatedly twisted or ignored the real evidence, the evidence that of course refutes them on every point.
In The War on Guns, you'll learn:
Why gun licenses and background checks don't stop crime.
How "gun-free" zones actually attract mass shooters.
Why Stand Your Ground laws are some of the best crime deterrents we have.
Women now hold over a quarter of concealed handgun permits.
How big-money liberal foundations and the federal government are pouring hundreds of millions of dollars into "public health" studies, the sole purpose of which is to manufacture false data against guns.
How media bias and ignorance skew the gun debate—and why it will get worse.
From 1950-2010, not a single mass public shooting occurred in an area where general civilians are allowed to carry guns.
Membership dues and donation payments can be made at http://grnc.org/join-grnc/contribute.
About Grass Roots North Carolina:
Grass Roots North Carolina is an all-volunteer organization dedicated to preserving the freedoms guaranteed us by the Bill of Rights. Our main focus is the right to keep and bear arms. GRNC was central to drafting and passing North Carolina's concealed handgun law and since that time has continued to push for improvements to gun laws.
For more information, visit: www.grnc.org.