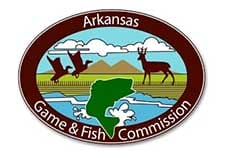 LOUISVILLE, Ky. –-(Ammoland.com)- Arkansas Game and Fish Commission Wildlife Officer Block Meyer from Cross County was recognized at the Mississippi Flyway Council Committee meeting Aug. 26 for his accomplishments in protecting America's waterfowl resource, promoting the tradition of duck hunting and ensuring hunters have safe, enjoyable times afield. The council, a panel of representatives from the 11 states that make up the Mississippi Flyway, named Meyer as Waterfowl Officer of the Year for his accomplishments during 2015 and the 2015-16 waterfowl season.
Among Meyer's accomplishments from last season was his quick thinking to help waterfowl hunters in need of rescue. In one instance, three juveniles had become stranded when their boat's motor failed 4 miles from the boat ramp. Severe weather was moving in and Meyer was able to get the juveniles back to the safety of the ramp. On another occasion, Meyer assisted two hunters who had fallen into freezing water and were airlifted out of the area because of hypothermia.
Last year, Meyer worked a dozen special waterfowl operations, six of which he initiated. He also worked 297 hours or waterfowl enforcement throughout the season, resulting in 830 waterfowl-related contacts and 85 citations and warnings for violations.
Meyer was extremely busy outside of waterfowl season. He conducted 50 waterfowl-related programs throughout the year, spreading his knowledge to radio audiences and Arkansas's youth. He participated on a radio talk show on four occasions, focusing on waterfowl regulations and waterfowl identification. He worked with a local Boy Scouts troop to build wood duck boxes and place them on a local wildlife management area, helping one of them become an Eagle Scout. Meyer also organized or participated in four youth hunts for 13 hunters.
He developed The Hunting Club at Wynne Intermediate School. He met with 22 students multiple times to educate them on waterfowl identification and hunting. He acquired donations to host a youth duck calling contest. More than $1,000 in gift cards, a shotgun and rifle, guided hunts, multiple BB guns and duck calls were given out to kids thanks to Meyer's efforts.
"Block is an outstanding officer and we're proud to have men and women of his caliber serving the people of Arkansas," said Col. Pat Fitts, chief of the AGFC's Enforcement Division. "Not only does he hold his duties as a law enforcement officer to the highest standard, he still understands what it means to be a wildlife officer and promote The Natural State's excellent resources."