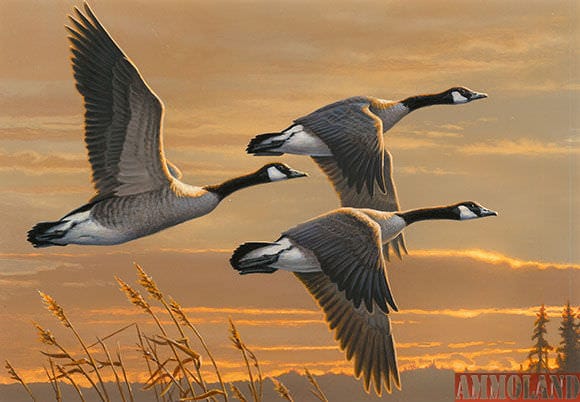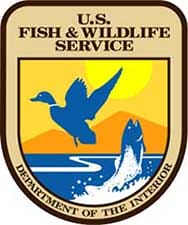 Washington, DC -(AmmoLand.com)- James Hautman, an artist from Chaska, Minn., is the winner of the 2016 Federal Duck Stamp Art Contest.
The announcement was made today by U.S. Fish and Wildlife Service Deputy Director Steve Guertin at the annual contest, held at the Academy of Natural Sciences in Philadelphia.
Hautman's acrylic painting of Canada geese will be made into the 2017-2018 Federal Migratory Bird Hunting and Conservation Stamp, or "Duck Stamp," which will go on sale in late June 2017.  This is Hautman's fifth Federal Duck Stamp Contest win, tying him with his brother Joseph, whose art appears on the 2016-2017 Federal Duck Stamp.
James Hautman's art previously appeared on the 1991-1992, 1995-1996, 1999-2000 and 2011-2012 Federal Duck Stamps.
The Service produces the Federal Duck Stamp, which sells for $25 and raises about $25 million each year to conserve and protect wetland habitats in the National Wildlife Refuge System for the benefit of wildlife and the enjoyment of people.
The Federal Duck Stamp is the nation's oldest and most successful waterfowl/bird conservation effort. This has been a significant year for bird conservation in that 2016 marked the centennial celebration of the first Migratory Bird Treaty that was signed between the United States and Great Britain (for Canada).
Rebekah Knight of Appleton City, Mo., placed second with her acrylic painting of a single brant. Knight previously won the National Junior Duck Stamp Contest; her redhead appeared on the 2006-2007 Junior Duck Stamp.
The third place winner is Robert Hautman of Delano, Minn., with his acrylic painting of a pair of Canada geese. Hautman, brother of James and Joseph, previously won the 1997-1998 and 2001-2002.
Of 152 entries in this year's competition, eight entries made it to the final round of judging today.  Eligible species for this year's Federal Duck Stamp Contest were the Canada goose, brant, northern shoveler, red-breasted merganser and Steller's eider.
"I congratulate James Hautman on his win," said Guertin. "And this is not just any piece of art, but one whose impact will be felt for generations to come.  Duck Stamps have helped to protect more than six and a half million acres of waterfowl habitat in our National Wildlife Refuge System – now that is a lasting legacy."
The judges for this year's Federal Duck Stamp Contest were: Jan Martin McGuire, an internationally renowned wildlife artist; Keith Russell, program manager for urban conservation with Audubon Pennsylvania; Dr. Nathan H. Rice, Ornithology Collection Manager at the Academy of Natural Sciences; John P. Booth, executive director of the Ned Smith Center for Nature and Art; and Sue deLearie Adair, an artist, birder and avid naturalist.
Waterfowl hunters age 16 and older are required to purchase and carry the current Duck Stamp when they hunt. Conservationists, stamp collectors and others may purchase the stamp in support of wildlife conservation.  A current Duck Stamp can also be used for free admission to any national wildlife refuge that charges an entry fee.
Ninety-eight percent of the proceeds from sale of the Federal Duck Stamp go to the Migratory Bird Conservation Fund, which supports the purchase of migratory bird habitat for inclusion into the National Wildlife Refuge System. Since 1934, Duck Stamps sales have generated more than $850 million to acquire and preserve more than 5.7 million acres of bird and wildlife habitat.  You can contribute to conservation by buying Federal Duck Stamps at many national wildlife refuges, sporting goods stores and other retailers, through the U.S. Postal Service, or online at http://www.fws.gov/birds/get-involved/duck-stamp/buy-duck-stamp.php.
This year's Federal Duck Stamp Contest was sponsored by the Academy of Natural Sciences, Ducks Unlimited, Pennsylvania Game Commission, Friends of Heinz Refuge, the William Penn Foundation and National Audubon Society.
Electronic files of the winning artwork can be downloaded from www.fws.gov/birds/get-involved/duck-stamp.php.  A gallery of all 2016 Federal Duck Stamp Contest entries is at: https://www.flickr.com/photos/usfwshq/albums/72157673275636455.
About the U.S. Fish and Wildlife:
The mission of the U.S. Fish and Wildlife Service is working with others to conserve, protect, and enhance fish, wildlife, plants, and their habitats for the continuing benefit of the American people. We are both a leader and trusted partner in fish and wildlife conservation, known for our scientific excellence, stewardship of lands and natural resources, dedicated professionals, and commitment to public service. For more information on our work and the people who make it happen, visit www.fws.gov.
For more information on our work and the people who make it happen, visit http://www.fws.gov/. Connect with our Facebook page, follow our tweets, watch our YouTube Channel and download photos from our Flickr page.