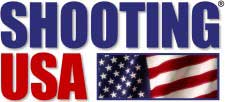 USA – (AmmoLand.com) – This is the year the world's most prestigious handgun championship becomes twice as difficult.
To take the Cup, top competitors have to shoot the four stages of fire twice, combining their qualifying score with their second round of shooting the plates, the barricades, the practical, and the mover. Julie Golob joins John Scoutten to present the coverage from the NRA Championship of Action Pistol in Columbia, Missouri.
Plus, the movie guns Clint Eastwood ordered for his film, American Sniper. We go inside one of the largest movie prop house armories in Hollywood to see how Chris Kyle's rifles were recreated for the big screen.
And, the rimfire pistol from World War Two, that never went to war. The High Standard is now one of History's Guns. Tune in Wednesday to Outdoor Channel!
AIR TIMES BY TIME ZONE
The Shooting USA Hour Wednesday:
Eastern Time: 9:00PM, 12:30 AM, 3:00 AM (Thurs.)
Central Time: 8:00 PM, 11:30 PM, 2:00 AM (Thurs.)
Mountain Time: 7:00 PM, 10:30 PM, 1:00 AM (Thurs.)
Pacific Time: 6:00 PM, 9:30 PM, Midnight
Shooting USA is listed as a one-hour show in your cable menu.
Stay Connected!
Be sure to "Like" Shooting USA on Facebook for behind-the-scenes action, and "Follow" us on Instagram too.
About Shooting USA:
Jim Scoutten, America's Most Watched Firearms Reporter, has been on the beat for 24 years, reporting the stories of the Shooting Sports and the firearms Industry. The show produces a series of popular segments focusing on historical guns, the personalities in the sport and industry, insider reports from gun tests, and practical tips from shooting sports pros. The show appeals to shooting sports enthusiasts of all ages and skill levels by providing practical tips on safely handling, modifying and repairing their favorite guns.
For more information, please visit www.ShootingUSA.com.