By Mike Fernald / Turkey Hill Outdoors
Photographer Mike Fernald spends a year wearing and testing the Nexbelt Tactical Belt, here are the video results.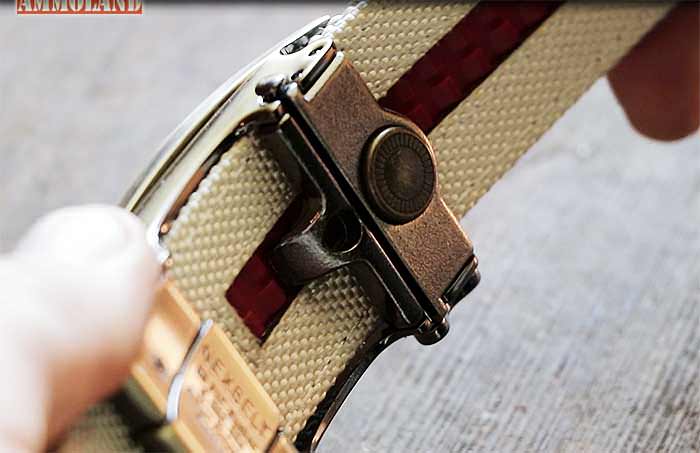 USA – -(Ammoland.com)- The way that you look at your belt will never be the same again. The developers at Nexbelt have completely changed the game in a market that was pretty much stagnant.
Most people were just simply living with their old style of belt closures and thinking nothing of it.
The entire premise of the Nexbelt is built off of a completely innovative no-hole platform. No holes whatsoever. The buckle has an integrated ratcheting system that securely adjusts the tightness of the belt in ¼" increments. Thus giving the wearer 4 times the adjustability of the regular 1" hole spacing in a classic belt, without effecting the look and face of the belt.
The Nexbelt Tactical Belt series are composed of extremely high quality durable and stiff leather or nylon. This makes them the prefect tool to support a firearm in a CCW (concealed carry weapon) application. The belts come in a single size where the user cuts at a measured length to best fit both their waist and their needs. In an IWB (inside the waistband) CCW application, the user will cut their belt a recommended 3 inches larger than their normal waist size to accommodate a firearm and holster (it's better to start too long than too short, once you cut it you can't go back).
Once the Nexbelt Tactical Belt strap is secured and locked into the buckle the belt is ready to go, and ready to be adjusted to the absolute perfect length for your specific needs. No more punching new holes in your belt to get the perfect fit. No more stretching or warping of belt holes that compromise the way that your belt fits.
No more "I guess that's good enough belts."
These belts will give you a precise fit every time, which is invaluable when the performance of your belt directly impacts your ability to carry securely and comfortably.
The Nexbelt Tactical Series of belts come in a variety of colors and styles to match any dress scenario that you may need. From working on the farm, to sitting in a board meeting in a suit and tie, Nexbelt has a belt that will suite your needs perfectly.
"Every day for the past year and a half, I've been personally wearing one of these belts, and can honestly say that it has completely reformed my opinion of a belts function and how important it is to have a belt that truly fits perfectly. The attractive styling is just a bonus." says Mike Fernald

We found the best price on the Nexbelt Tactical Belt online at Amazon :
---
About Mike Fernald & Turkey Hill Outdoors:
Turkey Hill Outdoors, LLC is an organization devoted to sharing our experiences and love for the outdoors and conservation, through video production and photography. We are devoted to telling the stories and sharing the experiences that make the great outdoors truly so great. www.turkeyhilloutdoors.com