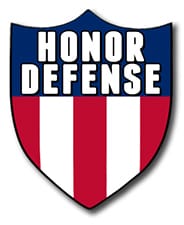 USA –-(Ammoland.com)- Honor Defense's new Director of Engineering and Quality is Rick Mulcahy, a shooting industry veteran holding Engineering positions previously at both Beretta USA and Sturm, Ruger and Company.
"Rick has been instrumental in the design and success of Honor Defense" said Gary Ramey, President of Honor Defense. "As we add to the team, he will continue to oversee design, QC and implementation of manufacturing."

"I was really excited to be play a key role with Honor Defense and create the new Honor Defense line of concealed carry pistols," said Mulcahy. "The Honor Defense brand may be relatively new to the industry, but the team of people making it happen are anything but. I am excited to be playing a larger role in the continued growth of an amazing company."
In his new role, Mulcahy's responsibilities will also include management of new product development at Honor Defense. His background includes experience managing large projects for the U.S. Navy's Nuclear Propulsion Program. Mulcahy holds Bachelor of Science Degrees in both Mechanical and Aerospace Engineering from West Virginia University.
Honor Defense will be looking to immediately fill a key role for a Product Design Engineer under the leadership of Mulcahy.
Launched earlier this year, the All-American Made line of Honor Defense concealed carry pistols all feature:
Striker-fired design that can handle 9MM +P loads
Snag-free sights
Trigger with a wide face and a crisp 7lb pull
Short reset for a quicker second shot and better overall control
Ambidextrous slide catch and magazine catch
Modular system with stainless steel chassis
Custom texture design to provide a better grip in all situations
Replaceable back straps to allow customization
For more information about Honor Defense, please visit www.honordefense.com.
About Honor Defense
Honor Defense firearms represent the next generation of modular handguns. Honor Defense firearms have more features than any other sub-compact pistol. Every part is manufactured in the U.S.A. to our highest standards. You can't buy a better pistol right out of the box. To create their pistols, Honor Defense secured input from a panel of professionals that have defended our nation or have extensive credentials in self-defense training.