by Mike Searson
Mike shoots the Savage Mark II FV-SR Rifle with a Liberty Regulator Silencer in this gun review and test.

United States -(AmmoLand.com)- One of the most rewarding rifle shooting sessions for a shooter can be had with a rifle in 22 lr.
No other rifle can lay down the accuracy of a quality 22 at short range. Recoil, noise and a host of equipment errors can be isolated to the point where if something is proving to be wrong that it must be with the shooter.
We found this missing in our own lineup. Sure, we had semiauto rifles, target pistols, revolvers and even a conversion kit for our machine gun in 22 lr, but somehow over the years we neglected to acquire a good rimfire bolt action.
This was remedied by a trip to our local Cabela's during a weekend sale around the first of the year. In keeping with our other bolt action rifles we knew that we wanted the following:
A factory threaded heavy barrel
A target grade, adjustable trigger
The ability to mount a decent scope as opposed to a 22 groove
A price tag under $300
A Word About Gun Writers

It seems that most gun writers are accused of getting our firearms for free. We often wish that was the case and it happens once in a blue moon. More often we are offered a discount on a particular firearm, but unless it is an extremely deep discount or a piece we cannot live without, these guns typically go back to the manufacturer well shot and slightly worse for wear. When writing for Ammoland, many of these end up as gun giveaways to lucky readers who check their email on a regular basis and enter the giveaway. However, this test gun, like many of the firearms we review here and elsewhere is from our own personal collection.

With that out of the way, let's get on with the review!
Savage Mark II FV-SR Rifle  – The Good
Savage's MK 2 FVSR hit all our criteria with a few other bonuses: It is made in America, has an enlarged bolt handle not unlike the type on our USMC M40A3 Sniper Rifle and has factory sling swivel studs.
We mounted a Barska Riflescope with an illuminated reticle that came off a used rifle we had purchased a few years back, a Harris Bipod and a black Super Sling we had laying around. We like it when we can just plug and play accessories instead of ordering adapters for the simpler things.
The rifle is equipped with Savage's amazing accu-trigger. We remember the bad old days when Savage Triggers relegated them to the deeply discounted "used rack" in sporting goods stores across the country and saw the first Rifle Basix triggers come out in the 90s. When Savage bellied up to the bar to include a factory trigger worthy of a true rifleman, we rejoiced and have been touting their success ever since.
Sighting in was no problem and we were consistently shooting one-hole groups at 50 yards.
The rifle included a number of accessories from an extra stout thread protector that lined up with the contour of the heavy barrel and came off extremely easy. A "muzzle brake" was included, but we moved that over to another rifle where it would be more useful.
We mounted a sound suppressor to the barrel and will cover that later in the article. It is safe to say that it works extremely well on this platform.
Savage Mark II FV-SR Rifle  – The Bad
Our only gripe about the rifle was the magazine release. It resembles a bent piece of thick wire and seems as if it could be fragile or possibly prone to breakage. If that is what makes this a sub-$300 rifle we can live with it, but in all honesty we will probably look for an aftermarket solution in a few months.
That may be the only flaw we found in this gem after six months of shooting it.
Savage Mark II FV-SR Rifle  – The Reality
For an affordable, accurate and reliable bolt action rifle, it is hard to find fault with the Savage MK 2 FVSR. We may be looking at a similar model in 22 Magnum or 17 HMR in the near future. The matte black finish and the lines of the rifle remind us very much like a scaled down version of our M40A3.
Caliber : 22 Long Rifle
Barrel Length : 16.5″
Capacity : 5+1
Trigger : Accutrigger
Safety : Manual Thumb
OAL : 35.25″
Weight : 5.5 lbs
Stock Description : Synthetic Black
Metal Finish : Black
http://www.savagearrms.com/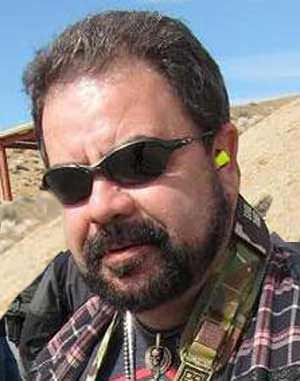 About Mike Searson:
Mike Searson's career as a shooter began as a Marine Rifleman at age 17. He has worked in the firearms industry his entire adult life as a Gunsmith, Ballistician, Consultant, Salesman, Author and was first certified to teach firearms safety in 1989.
Mike has written over 2000 articles for a number of magazines, websites and newsletters including Blade, RECOIL, OFF-GRID, Tactical Officer, SWAT, Tactical World, Gun Digest, Examiner.com and the US Concealed Carry Association as well as AmmoLand Shooting Sports News.