JOHNS, Newfoundland (Ammoland.Com) – Join internationally recognized conservationist, wildlife biologist, speaker, and author, Shane Mahoney on September 27th for "A Conservation Evening with Shane Mahoney – The Wild Harvest Initiative," presented by the Wild Sheep Foundation (WSF). This event, which is open to the public, begins at 5:30 p.m. at WSF headquarters in Bozeman, Montana. It is the latest in a series of WSF-hosted events designed to unite the various stakeholders within the conservation community, while encouraging individuals and groups to focus on finding common ground. The goal is to identify solutions to shared problems that will benefit wildlife, their habitat, and the people who enjoy them. 
"A Conservation Evening with Shane Mahoney – The Wild Harvest Initiative."
September 27, 5:30 pm – 8:00 pm
WSF World Headquarters
412 Pronghorn Trail
Bozeman, Montana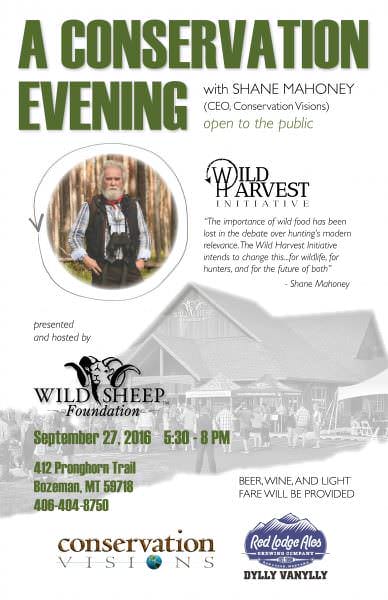 Complimentary beer will be generously provided by Cardinal Distributing; wine, and light fare will also be provided. For more information and to RSVP, call 406-404-8750.
"The Wild Sheep Foundation is pleased to bring Shane Mahoney to Bozeman to speak with our community on a broad range of conservation and public land issues, including his enlightening new research project, The Wild Harvest Initiative," said WSF president & CEO Gray N. Thornton. "This is a very interesting concept, especially in light of the popular 'locavore' movement and society's growing interest in eating healthy, local, and sustainably sourced foods."

"The importance of Wild food has been lost in the debate over hunting's modern relevance. The Wild Harvest Initiative intends to change this…for wildlife, for hunters, and for the future of both," Shane Mahoney stated. "The global concern over quality food is a social movement of great relevance to our hunting traditions. The Wild Harvest Initiative is designed to align these ideas and reposition hunting as a first choice for sustainable living."
About Shane Mahoney
Shane Patrick Mahoney, President and CEO of Conservation Visions Inc., is internationally recognized as one of today's most original, insightful, and inspiring conservation leaders, as well as one of the world's foremost authorities on the North American Model of Wildlife Conservation. An experienced wildlife biologist and the recipient of numerous awards, including the Gold Medal in Wildlife Science by the Caesar Kleberg Institute and Safari Club International's Conservationist of the Year, Mahoney has dedicated his life to working on behalf of wildlife, and is both a vocal proponent of sustainable use as a conservation practice and a strong believer in the benefits of communicating conservation science to the broader public.
His extensive scientific research has been published in more than 20 peer-reviewed journals and 8 books. He has published more than 100 popular articles, has appeared as host or narrator for a variety of radio and television efforts, and has collaborated with media giants such as National Geographic to produce award-winning films. An accomplished speaker, he has delivered plenary addresses, led numerous workshops, and presented at a host of conferences and special events all around the globe.
Today, Mahoney serves as Vice-Chair of the IUCN's Sustainable Use and Livelihoods Specialist Group (SULi), International Liaison for The Wildlife Society, and North American Expert to the International Council for Game and Wildlife Conservation (CIC). He is also the director of Colorado's High Lonesome Institute.
Learn more about Shane Mahoney, Conservation Visions Inc., and The Wild Harvest Initiative at http://conservationvisions.com.