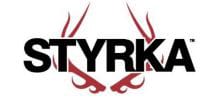 Eagan, MN -(AmmoLand.com)- Good friend and custom turkey call maker Ronnie Hardy of Hardy's Custom Calls heads north again from WV to chase Gobblers in the hometown of HCP – The Upper Peninsula of MI.
The boys set up Turkey Camp and the weather is shaping up to make for a great hunt!
Check your local listing for STYRKA's HARDCORE Pursuit on Sportsman Channel.
About Hardcore Pursuit:
The team's hardcore attitude, tremendous work ethic and down to earth appeal around the sport have them producing an exciting and entertaining show that is one of the top rated shows on the network. Be sure to tune in each week for adventures from all over the US and Canada and check out their Facebook page for trailers and sneak peeks of upcoming episodes.
To learn more about HARDCORE Pursuit, please visit http://hardcorepursuit.com/.
About Styrka:
Launched in 2015, Styrka offers a dynamic line up of hunting scopes, binoculars, red dots and spotting scopes. The Styrka philosophy is simple but non-negotiable: make high quality optics at affordable prices; always tell your customers the truth about what optics can and can't do; and, stand behind your products 100-percent, forever. Styrka Pride. Styrka Strong.
To learn more about Styrka Optics, please visit http://styrkastrong.com/.