Brian D Johnson field tests and reviews 3V Gear's Velox II Tactical Assault Pack.
USA –-(Ammoland.com)- Whether you are building a bug out bag, out in the backcountry for a weekend, or at the range for the day, it is critical that your pack has what you need when you need it.
For all of these activities, there are numerous packs that will fit the bill, but none will match the quality, versatility, and price that is found in the Velox II Tactical Assault Pack from 3V Gear.  (  www.3vgear.com ).
From head to toe, the 3V Gear Velox II Tactical Assault Pack is ready for any situation and was built to fit the needs of any tactical scenario as well as an extended stay from your home base.
The unpredictability of those scenarios demands the versatility that not only the Velox but all of 3V Gear's products offer. Specifically, the Velox can receive MOLLE and PALS attachments to the bag, providing additional storage and capabilities. One such Molle pouch offered by 3V Gear is their Single Pistol Case, which easily attaches to the front of the Velox, and still allows for other pouches to attach to the sides of the pack.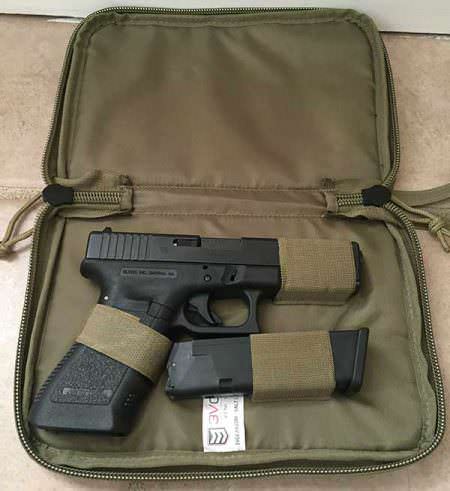 While testing the bag I was able to easily load a two person tent, sleeping bag, food for two days, mess kit, and still more space left for a change of clothes, first aid kit, and additional water. That all easily fit without properly packing or using any additional pouches. By adding the additional Single Pistol Case to the front pocket the Velox easily carried a Glock 17 Pistol, or similar pistol, onto the pack. The pistol case also has room to hold an additional magazine.
3V Gear carries a line of compatible MOLLE and PALS pouches and attachments, but any similar system will work with the Velox or the Paratus packs (review coming) . For example, on my pack I have attached my 5.11 TPT L2 Flashlight. But, before going elsewhere, I would recommend looking at 3V Gears' selection of accessories, as well as their hydration systems. If you are building a tactical bug out bag to supply 2-3 days you can not go wrong in choosing either the Velox II or the Paratus.
Both the Velox and the Paratus packs are able to comfortably haul at least two-days of gear, food, and water. The Velox is better suited for shorter 2-3 day stays, whereas the Paratus is large enough to load 3 to possibly 5 days of gear. Both have hip belts and chest straps to assist with carrying the load for extended hikes.
Either the Velox or the Paratus is an ideal option for a tactical pack that will fulfill your prepper or hiking needs without putting a dent in your wallet.
The Velox II Tactical Assault Pack does not have an internal or external frame. From my experiences backpacking, I have always used either framed pack for extended backcountry stays because of their enhanced stability in handling heavy loads across uneven terrain. Frameless packs like the Velox offer more mobility for the user as well as lighter load overall making it an ideal quick response bag. The EVA molded back panel, and padded shoulder straps provide plenty of support to make hikes with a full load comfortable. While field testing the Velox, I was comfortably able to hike five miles and was able to fit enough gear for two people and a dog (puppy).
When it comes to tactical packs there are a lot of pricey options out there, all of which are meant to be durable, high-quality, and above all versatile. The Velox II Tactical Assault Pack is all of those things except for the unwanted high price tag. That goes for all of 3V Gears' products, they deliver quality tactical gear at a great price. If you are looking to build an excellent go-bag but want to keep a reasonable budget, then look no further.
Priced at only $59.95, you simply cannot go wrong in selecting the Velox II Tactical Assault Pack as your newest piece of tactical gear.
About: Brian D. Johnson is currently a student at George Mason University, finishing his studies in History and Legal Studies. He contributes to Ammoland regularly and also assists with daily gun news publishing as an assistant editor. He has also contributed articles to the History News Network that take a historical view of current issues.