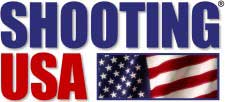 USA – (AmmoLand.com) – It's the fastest of the run-and-gun handgun sports! Top shooters in the country compete with enhanced pistols at the USPSA Handgun Nationals at the Universal Shooting Academy in Florida. Open Division competitors run through 21 courses of fire with "race guns," modified with compensators, red dot optics and high capacity double-stack magazines.
Plus, there's a Zombie invasion in Nebraska! Competitors compete in the zombie-themed, multi-gun match at the Pandemic in the Heartland, hosted by Hornady.
And wounded Veterans honor wounded Veterans at HAVA's Family Range Day near Fort Campbell in Kentucky. Tune in Wednesday to Outdoor Channel!
AIR TIMES BY TIME ZONE
The Shooting USA Hour Wednesday:
Eastern Time: 9:00PM, 12:30 AM, 3:00 AM (Thurs.)
Central Time: 8:00 PM, 11:30 PM, 2:00 AM (Thurs.)
Mountain Time: 7:00 PM, 10:30 PM, 1:00 AM (Thurs.)
Pacific Time: 6:00 PM, 9:30 PM, Midnight
Shooting USA is listed as a one-hour show in your cable menu.
Stay Connected!
Be sure to "Like" Shooting USA on Facebook for behind-the-scenes action, and "Follow" us on Instagram too.
About Shooting USA:
Jim Scoutten, America's Most Watched Firearms Reporter, has been on the beat for 24 years, reporting the stories of the Shooting Sports and the firearms Industry. The show produces a series of popular segments focusing on historical guns, the personalities in the sport and industry, insider reports from gun tests, and practical tips from shooting sports pros. The show appeals to shooting sports enthusiasts of all ages and skill levels by providing practical tips on safely handling, modifying and repairing their favorite guns.
For more information, please visit www.ShootingUSA.com.