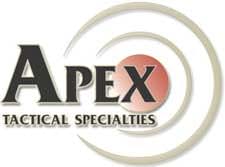 PEORIA, Ariz. – -(Ammoland.com)- Apex Tactical Specialties announced they will be attending the third Shockwave In The Desert, The P3W Awakens.
Billed as "a gun show that you can shoot at," Shockwave In The Desert takes place October 29 and 30 2016 at the Cowtown Range in Peoria, Arizona.
Apex staff will be on hand with demo guns for test fire, parts kits for purchase at show special pricing and on-site parts installation services (on a limited basis).
The first Shockwave In The Desert took place in 2013 and drew 400. What started out as a gathering of a handful of friends who met over social media getting together for a day of shooting and brotherhood blossomed into one of the largest and best-known social media events in the shooting community.
The event will take place on Saturday, October 29 from 10 a.m. to 6 p.m. and Sunday, October 30 from 10 a.m. to 4 p.m. The Cowtown Range is located at 10402 W. Carefree Hwy, in Peoria. Parking is free.
The third Shockwave In The Desert is expected to draw more than 1,500 attendees. The event is open to the public. Tickets are available for pre-order at $10 for single day access or $16 for a 2 day pass. Admission the days of the event cost $15 per person with no discount for multiple days.
During the two-day event, Apex will showcase pistols equipped with Apex parts, which are easy to install and enhance the handgun's performance. Among the wide variety of aftermarket parts on display, available to test fire and for sale during the show, are parts for CZ, Glock, Sig Sauer, Smith & Wesson and Walther firearms.
Apex will offer special show pricing on much of its current product line, including popular items such as the Flat-Faced Forward Set Sear & Trigger Kit, Shield Duty/Carry Action Enhancement Trigger Kit, Glock Action Enhancement Trigger, Sig P320 Action Enhancement Trigger and the Apex Armorer's Block and Tray. Apex will also have a limited number of the popular Freedom Edition Trigger Kits available for the M&P and M&P Shield.
For a nominal fee, Apex staff also offer on-site installation of Apex triggers and kits purchased during the event. Installation services will be available as time permits.
To take advantage of this limited time special pricing and installation support, be sure to visit the Apex Tactical Specialties demo bay during Shockwave In The Desert.
For more information on parts and services from Apex Tactical Specialties, visit www.ApexTactical.com, like Apex Tactical on Facebook or follow @ApexTactical on Instagram and Twitter. Instructional videos on the installation of Apex parts are available on Apex's YouTube channel.
About Apex Tactical Specialties, Inc.:
Apex Tactical Specialties, Inc. was created to serve Law Enforcement personnel, competition shooters, and individuals who recognize the need for defensive tools to be more than "just adequate" for the job. We are a quality-driven and progressive organization – our product line, services, and expertise are continually evolving. Our mission is simple: superior parts, exceptional performance and craftsmanship, and above all, unparalleled customer service.
For more information on Apex Tactical Specialties, Inc. and its full line of products, please visit www.ApexTactical.com.