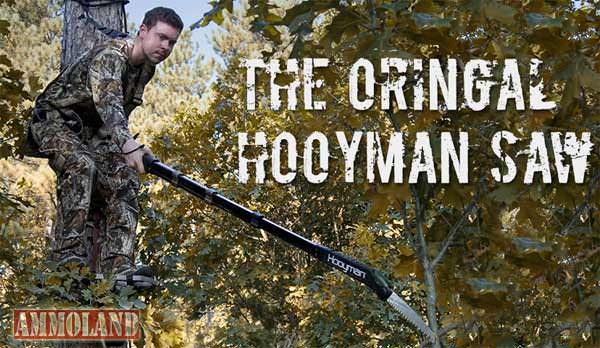 USA –-(Ammoland.com)- Create the Window of Opportunity this Fall with Hooyman Premium Tree Saws
Hooyman MegaBite Handsaws
The new MegaBite Handsaws are designed to be compact and extremely durable. These handsaws are available in two models, the MegaBite and the MegaBite Compact. The impulse hardened, 4- edge, tooth design is made to last and provides unmatched cutting performance.
MegaBite Compact has a 6-inch blade and folds down to 6.5"
MegaBite has an 8-inch blade and folds down to 9.5"
Hooyman 40v Lithium Pole Saw
The new HooymanCordless 40v Lithium Pole Saw is the perfect tool for trimming, clearing brush and creating shooting lanes. Equipped with a 40v Lithium-Ion battery and high torque in-line motor, this electric pole saw can tackle both large and small limbs with ease and precision.
Weighs less than 10 lbs.
Approximately 16 feet of reach
Hooyman Extendable Pole Saws
The Hooyman line of extendable pole saws feature a compact ergonomic design, with high carbon SK5 tapered MegaBite XP blades, and rock solid aluminum I-Beam construction. This rigid design makes sure no limb comes between you and the shot of a lifetime.
Available in 5 foot, 10 foot and 16 foot models
All models collapse down for easy transport
About Battenfeld Technologies, Inc.
Based in Columbia, Missouri, and owned by Smith & Wesson Holding Corporation, Battenfeld Technologies develops and sells shooting, reloading, gunsmithing, and gun cleaning supplies under several popular, premium brands, including innovative, top quality products under Battenfeld Technologies, Inc., including: CaldwellShooting Supplies; WheelerEngineering; TiptonGun Cleaning Supplies; Frankford ArsenalReloading Tools; LockdownVault Accessories; and Hooyman Premium Tree Saws. For more information about Battenfeld Technologies, Inc. products, visit www.BTIbrands.com or call 573-445-9200.