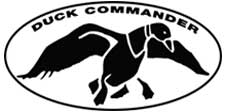 WEST MONROE, La. –-(Ammoland.com)- Since 1972, Duck Commander has been a leader in manufacturing the best duck calls for hardcore hunters.
For 2017, Duck Commander will expand the Commander franchise by introducing the new Goose Commander line starting with the Specklebelly Goose Call.
This polycarbonate call has a single, short reed that is more than capable of the clucks, purrs and yodels necessary to call in the wildest of white-fronted geese.
"Ducks have always been our primary focus, but as all-around hunters, we enjoy hunting and communicating with all wildlife, which is why we're branching out with new Commander lines," said Kyle Tengwall, general manager for Duck Commander.

"We're excited to start Goose Commander, and this call will be a must-have for anyone who hunts in areas where specks are located."
The new Goose Commander Specklebelly Call is engineered and tuned to require less back-pressure, allowing callers at any level to quickly learn how to use it.
The call also utilizes a thin reed, making it easier for the call to break over for the perfect pitch when the caller blows air across the reed.
With the proper hand placement, callers can easily control the pitch and volume.
MSRP for the Goose Commander Specklebelly Call is $39.99, and can be found at Bass Pro Shops, Mack's Prairie Wings or online.
For more information about Duck Commander and all of its products, visit www.duckcommander.com or call 318-387-0588.