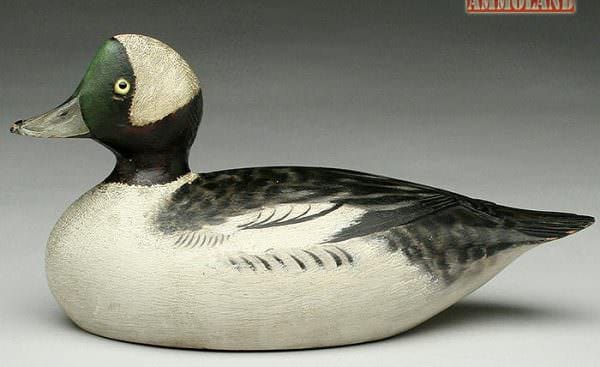 Easton, Maryland – -(Ammoland.com)- Guyette & Deeter will hold their 31st annual fall decoy auction on Thursday, November 10, 2016.
There will be a preview on Wednesday, November 9 from 12 – 8 pm with a preview cocktail and hors d'oeuvres reception from 6 – 8pm.
There will also be a preview prior to the auction on Thursday, November 10 from 8 – 9:45am.
The sale, which has a projected gross over 2 million dollars, will be held at the Talbot County Community Center, on Route 50 in Easton, Maryland.
Over 400 decoys and related items will be sold with prices ranging from $400 – $200,000.
A decoy buy, sell, and swap meet will be held in the parking lot, with an additional 50 tables of decoy exhibitors set up inside the hall, Tuesday, November 8 through Thursday, November 10, 2016.
The auction and show is open to the public, and there is no admission fee. Guyette & Deeter also features online bidding through www.invaluable.com. The auction will be held in conjunction with the country's premier decoy show, the Easton Waterfowl Festival. More information on the Waterfowl Festival is available at (410) 822-4567.
This year's sale will feature decoys and sporting art the collections of Paul Tudor Jones II, Dr. Lloyd Griffith, John Baker, Joseph Hegarty, Porter and Patti Hopkins, Doug and Ellen Miller, Harold and Nancy O'Connor, Carl Olson, Gene and Dianne Orgeron, Greg Stanley, and Bruce Williams. Many great examples from carvers including the Ward Brothers, Nathan Cobb, Eli Doughty, Elmer Crowell, and Ira Hudson are included. Also, original Sporting Art by A. Lassell Ripley, Frank Benson, A.B. Frost, Francis Lee Jacques, Guy Coheleach, Richard Bishop, and George Viavant will be included.
Highlights in this sale include, an important drake bufflehead carved around 1915 by Elmer Crowell for his close friend, Dr. John Cunningham ($150,000 – $200,000), as well as a very early pair of "humpback" style pintails by the Ward Brothers, hen ( $125,000 – $150,000), drake ($100,000 – $125,000).
A fully illustrated 208 page color catalog with guaranteed condition reports is available for $45 (price includes priority postage with post sale price key available online). The buyer's premium remains at 15 percent. A free auction brochure is also available. The firm welcomes phone and absentee bidding. Either may be obtained by contacting: Guyette & Deeter, PO Box 1170, St. Michaels, MD 21663, or by calling (410) 745-0485, Fax (410) 745-0487, www.guyetteanddeeter.com. Online bidding will also be available for this auction through Invaluable. Visit the upcoming auctions page at www.invaluable.com for more information and registering.
Guyette & Deeter is the world's largest decoy auction firm with over $160,000,000 in decoy sales. They hold four decoy auctions per year in different locations across the United States. In 2007, Guyette & Deeter sold over $14,000,000 worth of decoys at auction. In January of that year, Guyette & Deeter, in conjunction with Christie's New York, set a new auction record for a decoy when they sold a hollow-carved merganser hen by Lothrop Holmes for $856,000.
Guyette & Deeter operates an online auction "Decoys for Sale," www.decoysforsale.com, which debuted in May of 2013 with weekly sales. These auctions include decoys, duck calls, shotgun shell boxes, and sporting collectibles. The auctions feature guaranteed descriptions, multiple photos and fast shipping. Contact Zac Cote for online auction information: [email protected], (410)-253-8616.
Guyette & Deeter provides free decoy appraisals to anyone sending a decoy photo and stamped, self-addressed envelope to either: Guyette & Deeter, Inc., PO Box 1170, St. Michaels, MD 21663. Phone: (410) 745-0485, or by email to [email protected], or to Jon Deeter, 7980 Darbys Run, Chagrin Falls, OH 44023 or by email to [email protected] www.guyetteanddeeter.com