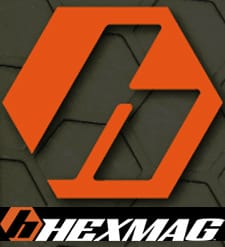 USA-(Ammoland.com)- Be sure to drop by booth 1041 and visit with George, Dave, Jake, Hunter and the rest of the Hexmag crew at the National Association of Sporting Goods Wholesalers Show.
Why?
Visitors will get a firsthand look at their latest AR platform 10, 15 and 30-round Series 2 magazines, as well as the various accessories that make this light-weight, super- tough, incredibly reliable and color coded magazine state of the art for feeding AR's.
Visitors will also get a look at some other items, such as the adjustable pistol grip for the AR.
Plus, it's always nice to hear firsthand from the designers and engineers why and how they did what they did.
While magazines are not as sexy as the latest "belt feed revolver," they are the only effective means to feed an AR.
These affordable magazines have features such as a firm lock up, stripper clip feed capability that finally makes jamming ten rounds of ammo easy and their internal and exterior design and ergonomics as well as their unique color coding system.
So take ten and drop by and take a good look at the Hexmag goodies at booth 1041.
About Hexmag:
Hexmag, founded in early 2013, was an exercise in 3-D design and printing. We chose an AR-15 magazine as our project. We found out it was not easy to create a working AR magazine. Getting the AR magazine to fit in a lower receiver and stacking exactly 30 rounds into the magazine was not easy. Then firing those rounds reliably made our task almost impossible. Rather than give up on our design efforts after one attempt, we kept working on the project. We refined our design again and again. We were driven to make it work.
For more information, visit: http://hexmag.com.