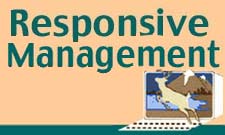 USA -(Ammoland.com)- Responsive Management has produced a new article detailing hunters' contributions to wildlife conservation in the United States.
The article provides an in-depth look at the sources of funding from hunters and how these funds are spent, from wildlife management and species recovery to the work of federal and state fish and wildlife agencies and nonprofit organizations.
The article discusses various sources of funding, including the Federal Aid in Wildlife Restoration Act of 1937 (commonly known as the Pittman-Robertson Act); the Federal Duck Stamp (a required purchase for any duck hunter in the U.S.); licenses, tags, and permits purchased by hunters in each state; and membership dues and donations from nonprofit organizations like Ducks Unlimited and the Rocky Mountain Elk Foundation, which are largely supported by hunters.
The article then breaks down how the funding from hunters is spent, including Pittman-Robertson revenue apportionment, the many ways in which nonprofit organizations contribute to conservation in the U.S., and how hunters' contributions manifest in the work of fish and wildlife agencies.
A summary of fish and wildlife agency resources and assets compiled by senior staff at the Arizona Game and Fish Department makes clear the importance of hunter dollars on the state agency level alone (Responsive Management thanks Larry Voyles and Doug Burt for providing this information):
50,000 employees;
11,000 degreed biologists;
8,400 certified law enforcement officers;
190,000 volunteers working with the agencies annually;
465 million acres of land managed or controlled by agencies;
168 million acres of water managed or controlled by agencies;
And a total of 990,000 square miles of wildlife habitat–almost four times the state of Texas and more than 10 times the size of all five Great Lakes combined.
Also covered in the article are examples of various wildlife species that have rebounded thanks to management efforts supported through funding from hunters:
The whitetail deer population went from less than 500,000 in 1900 to more than 30 million today;
Wild turkey went from under 650,000 in 1900 to more than 7 million today;
The wood duck, extremely rare in 1900, has increased to 5.5 million today;
The Rocky Mountain elk has gone from 40,000 in 1900 to about a million today;
There were just 13,000 pronghorn antelope in 1900 compared to about a million today;
And while just 25,000 bighorn sheep roamed North America in 1950, that number has climbed to 80,000 today.
The article provides a full discussion of the other ways in which hunter dollars are spent, including support for wildlife management areas, scientific conservation studies and biological research, other species recovery and wildlife management efforts, and habitat conservation.
The full article has been posted to the NRA's Hunters' Leadership Forum website, available here.