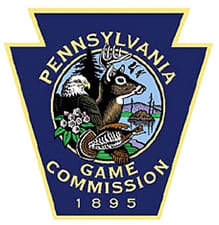 Benezette, PA. –-(Ammoland.com)- The Keystone Elk Country Alliance's (KECA) 2016 Elk Tag Raffle winner selected at a public drawing held at the 2016 Elk Expo on August 21 was Steve Unis from Ulster, PA. Steve's name was selected from 10,354 tickets purchased for this once in a lifetime opportunity to hunt a world-class bull elk in the Keystone State. Steve harvested an 8 x10 Pennsylvania bull elk the morning of September 26, 2016 on public land in the mountains of the Moshannon State Forest. The bull has been unofficially green scored at 426 and 5/8".
"When I received the call from Rawley Cogan, President and CEO of KECA and Matt Hough Executive Director of the PA Game Commission informing me that I was the lucky winner, all I could think of was that someone was fooling with me, I questioned Rawley if this was for real?", stated Steve Unis.

"KECA's Elk Tag Raffle, a conservation license provided by the Pennsylvania Game Commission, is unique in that it includes a shoulder mount, a 6-day fully guided hunt including meals and lodging donated by Elk County Outfitters and filming of the hunt for the popular national TV show TomBob Outdoors: Friends in Wild Places and one-hundred percent of the proceeds stay right here in Pennsylvania's Elk Country," stated Cogan. "This year's Elk Tag Raffle generated $190,325; the most ever raised in the three years the raffle has been in existence," said Cogan. The much needed revenue will be used for the construction of KECA's outdoor classroom, conservation education programs including distance learning, habitat enhancement projects on public and private lands and for permanent land protection.

Steve's hunt began in early September when scouting trips were planned and bulls were located. "With the warm weather in early September I was anxious to begin hunting but I wanted to also make the best of this great opportunity so I waited for the best hunting conditions, until cooler weather and the rut turned on," said Unis. That opportunity came on Monday the 26th when Elk County Outfitters guide Don Campbell and Brad Clinton, Executive Producer TomBob Outdoors, headed to the Moshannon State Forest with Steve.

"As we left the truck very early that morning bulls were bugling all around us. We decided to work in from the thick white pine and oak timber and try to determine the herd bull's location using the wind and cover to our benefit,: said Unis. We slowly worked in tight to the herd, but we did spook a few cows and satellite bulls as we made our way closer. We spent about 2 hours maneuvering around the cows trying not to blow out the entire herd. If the elk did bark at us, Don would quickly get on his cow call and try to calm the herd so we didn't spook them, stated Unis.

"The three of us worked like a well-seasoned team as we moved like one through the woods. I was initially concerned about having a camera crew along but once I met Brad and we hunted a day my concerns were put to rest. Brad is a seasoned woodsman, hunter and cameraman with 30 years' experience filming hunts all across the country. We worked very well together," said Unis.

"We had finally made our way in very tight to what we thought was the herd bull, although we had several bulls in close that appeared to be the herd bull but the cover was so thick we could not see him. Don used his cow call and when the bull responded he was very close — less than 100 yards and appeared to be coming in. Then Brad said that he saw the bull's antlers above the white pine and then I was really thinking this was about to happen," said Unis. "The bull stopped and rubbed a sapling in a small depression then came on a string right at us. I was whispering to Brad and Don; is this the right bull? They weren't sure either! Here he comes, is it the right bull? It was so thick and hard to see no one was sure. Then the bull walked through an opening and I saw his massive rack for the first time, I was sure this was the right bull and that this was about to happen. As the bull got within 50 yards he turned almost broadside and I made a good shot as the bull ran only 40 yards and piled up," said Unis. I really did not see him go down because of the thick cover but Brad assured me that he was down," Unis said.

The Elk Conservation Raffle was made possible by the passage of House Bill 2169, legislation authored by State Rep. Matt Gabler (R-Clearfield/Elk) and signed into law by former Governor Tom Corbett on July 10, 2014. "This legislation creates outstanding opportunities in Pennsylvania's Elk Range," Gabler said. "I applaud KECA and the PGC for their great work in generating much needed funding to support Pennsylvania's Elk Country. I am certain this initiative will continue to provide great support for educational and habitat programs in Pennsylvania's Elk Country, which I am proud to call home."
Last year, more than 350,000 guests mostly from the eastern seaboard visited the Elk Center to observe elk and to learn more about one of Pennsylvania's most watchable wildlife. KECA is a Pennsylvania-based 501 (c) (3) wildlife conservation organization that operates the Elk Country Visitor Center in partnership with Pennsylvania's Department of Conservation and Natural Resources.
"I am thankful to KECA and the PGC for providing this opportunity to me," Unis said. I am proof that this is real, that this can happen to you but you have to participate to win. The money generated from the raffle is in good hands, administered by KECA, so even if you don't win the hunt, you are still a winner because your dollars provide funding to continue the important educational and habitat projects KECA and the PGC complete. This could definitely happen to you next year," said Unis.

The Unis hunt will be aired on TomBob Outdoors; Friends in Wild Places according to the show's Executive Producer Brad Clinton. "I have filmed quite a few hunts over my 30 years in the business but this footage is some of the best I have ever shot. I knew after our first meeting that Steve Unis was a hard core hunter and that we had an opportunity to really document a great hunt and hunter," said Clinton.

The Pennsylvania Game Commission manages the elk population and its habitat. The elk population is estimated to be 1,000-1,100 animals. "We are very proud of the fact that Pennsylvania is home to the largest herd of elk in the Northeast," said Game Commission Executive Director R. Matthew Hough. "This accomplishment was only made possible through the diligent work of committed individuals from both within the PGC and the private organizations that partner with us in conservation. I am thankful to the Legislature for passing House Bill 2169, as awarding an elk tag to KECA provides us with the opportunity to celebrate our partnership and acknowledge KECA's role in helping to restore and maintain the elk herd in Pennsylvania."

All proceeds from this special Elk Conservation Raffle will be administered by KECA. KECA and the PGC will select mutually agreed upon conservation education and habitat improvement projects to complete. "All proceeds from this special Elk Conservation Raffle will remain in Pennsylvania's Elk Country to support our elk herd," stated Cogan.
About K.E.C.A.: The Keystone Elk Country Alliance is a Pennsylvania based 501 (c) (3) wildlife conservation organization. KECA's mission is to conserve and enhance Pennsylvania's Elk Country for future generations. KECA operates the Elk Country Visitor Center. Visit www.ExperienceElkCountry.com for more information.