By Jason Reid
Writer Jason Reid puts the KEEN Liberty Ridge Hiking Boots to the test in this 10 day elk hunt.

Rochester, NY – -(Ammoland.com)- For the past two seasons my hiking boots remained the same. Two seasons of hiking hard in the Rockies to my beloved ridges at home in New York have given me plenty of time to learn what I like and dislike about the KEEN Liberty Ridge Hiking Boots. While they are not a brand you would see at the ATA show, they get the job done for the price.
Release originally in the spring of 2015 I bought the boot initially because of the all leather design as opposed to other boots with multiple fabric seams. The theory, at least, is to mitigate any rips or tears which can happen while hiking through thick brush. My second reason is due to how light they are as compared to other boots I've worn in the past. Weighing only 1.5lbs. per boot they were a welcome addition to my gear cache.
KEEN Liberty Ridge Hiking Boots
We all have heard the horror stories of blisters caused by boots. The process to "break-in" a pair of boots can be frustrating and painful. Keen boots are known for being fairly easy to work into and this is the case with the Liberty Ridge boots. They are very easy to break in and after a week you cannot tell that they are brand new.
Hiking in the backcountry means serious inclines, declines and uneven terrain. Ankle support is a major consideration for any boot. I never had a problem when it came to hiking over tough terrain. With the right sock combination, this boot is snug to the foot and is much more like a skiing boot. However, if you do not pay close attention to your sock combinations you will experience a great deal of foot sliding which can lead to blisters. Maybe I just have small feet since I required larger hiking socks with good liners and a middle sock in between the two, one of my few noted marks against this boot.
The soles of the boot are what also drew me to this brand. The mid sole is tough and the treads are like cat claws helping to provide great balance on steep terrain. The sole is not so large and heavy it adds extra weight. My favorite part of the boot is the toe cap. Past boots I've owned become badly worn after just a few weeks in the toe area. The toe cap does add a few extra miles to the life of the boot and is something I appreciate. Now the first pair I bought had some issues. Maybe they were form the first batch to leave the factory because the glue holding the toe cap to the leather pealed shortly after I bought them. My second pair have not peeled.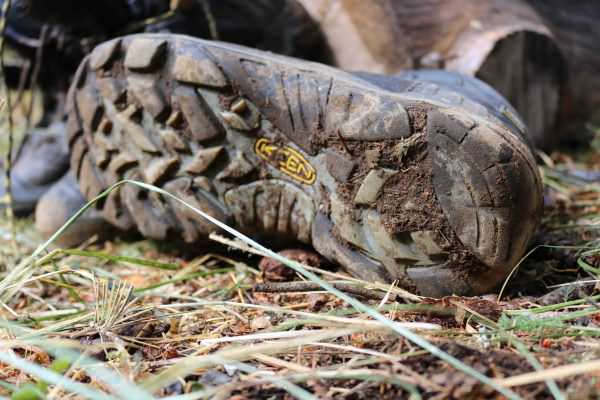 KEEN Liberty Ridge Hiking Boots Waterproof:
Here is where I begin to have issues with this boot. A morning dew is not a problem to walk through. What becomes a problem is when the grasses and underbrush are soaked. Keen has their own technology they dub Keen Dry. I am hesitant to praise the Keen Dry waterproof technology as I dealt with soggy feet multiple times while being caught in rain and having to walk through wet terrain. However, I have walked through many creeks with no problem. You draw your own conclusion.
KEEN Liberty Ridge Hiking Boots Conclusion:
For the price these boots are tough to pass up. Prices for the KEEN Liberty Ridge Hiking Boots on the internet have been spotted from $80 to $200. For fairly dry days of hiking and if you are on a budget like me, these boots are a great purchase for the price. For tough hiking you can make them last between two and three seasons in the backcountry. They are durable and are easy on the feet and can stand up to walking through low water without issues. For an entry level purchase or someone on a budget who needs durability, these boots can be a great resource.
About: Dedicated to preserving and promoting the legacy of hunting, Pushing The Wild Limits creator, Jason Reid, balances a day job with his passions for bowhunting, capturing the stories and sharing information through writing and photography. Follow Pushing The Wild Limits on Facebook for unique outdoor content.