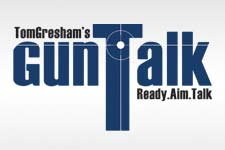 Mandeville, LA –-(Ammoland.com)- This week on Tom Gresham's Gun Talk Radio, Tom Gresham and Ryan Gresham are broadcasting live from the Scattergun Lodge in South Dakota hunting pheasants with the folks from Mossberg.
Tom is chatting with Linda Powell from Mossberg, as well as others who are there for the hunt.
Tom's also talking with Cameron Hopkins, owner of Westside Armory in Las Vegas. The Westside Armory recently made headlines with its "Pre-Hillary Sale," and controversial ad warning buyers that prices will sky-rocket after the election. Read more here: http://wapo.st/2exyAlI.
And don't forget to enter to win one of four Liberty Safe HDX-250 Biometric Handgun Vaults! All you have to do is "Like" Liberty Safe (facebook.com/LibertySafe) and Gun Talk Media (facebook.com/guntalkmedia) on Facebook, and then head to http://www.guntalk.com/win to enter! Twenty First Prize winners will receive a Liberty Safe hat. The Liberty Safe Giveaway ends on October 28th, 2016.
And, for this week only, two lucky listeners will win a Ruger 10/22 Takedown rifle and a 10/22 accessory prize pack (with a BX-Trigger, BX-25 magazine, rifle case, cleaning kit, and an eyes & ears set!). Tune in Sunday to find out how! It's also your last chance to enter the Ruger 10/22 Video Contest! Submit your video showing how you "tricked out" your 10/22 with aftermarket accessories before the contest closes on Tuesday. Enter your video now at http://bit.ly/2elWYDt.
In its 22nd year of national syndication, Tom Gresham's Gun Talk® radio show airs live on Sundays from 2PM-5PM Eastern, and runs on more than 220 stations every week. Listen live on a radio station near you (http://guntalk.com/site39.php) or via live streaming from one of the stations here: http://guntalk.com/site38.php. All Gun Talk shows can also be downloaded as podcasts at http://www.guntalk.libsyn.com, Apple iTunes, and i-Heart radio, or through one of the available Apps: GunDealio for iPhone, GunDealio for Android, Gun Talk App on Stitcher. Gun Talk can also be heard on YouTube. More information is available at http://www.guntalk.com.
("Gun Talk" is a registered trademark.)