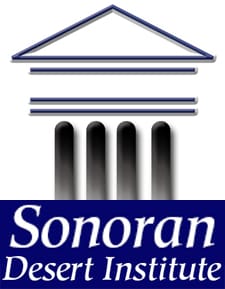 Scottsdale, AZ -(AmmoLand.com)- Sonoran Desert Institute (SDI), an industry leader in providing accredited and accelerated distance learning, is proud to feature personal defense expert Rob Pincus in this month's free webinar on "Developing a Firearms Training Business."
Pincus, owner of I.C.E. Training and developer of the Combat Focus Shooting Program, provides efficient training methodologies for anyone interested in developing firearms, tactical operations and defensive skills.
SDI's free one-hour-long webinar will be on Tuesday, Oct. 25, 2016, beginning at 8 p.m. EST. To register, go to https://attendee.gotowebinar.com/register/8436335394665384964.
Rob Pincus is a professional trainer, author and consultant who provides services to military, law enforcement, private security and students interested in self-defense. He is the developer of the highly efficient Combat Focus Shooting program. Pincus has experience as a law enforcement officer and executive protection agent and was also commissioned as an officer in the United States Army Reserve after graduating from the Military College of Vermont with a degree in Political Science. Rob serves the San Miguel County Sheriff's Office as a Training Officer and has been a staff writer with S.W.A.T. Magazine since 2001.
"The firearms industry is broad, and if you've ever wondered what it's like to launch, develop and run a training-specific business, this month's webinar is a can't-miss opportunity," says SDI Vice President Wes LeMay. "Rob will talk you through how to start, build and develop a training-focused business. As one of the busiest instructors in the industry, Rob knows firsthand what it takes to make a training business successful. We hope everyone joins in."
Sonoran Desert Institute is an accredited online school providing undergraduate degree and certificate programs in firearms technology. Sonoran Desert Institute offers a 60 semester-credit Associate of Science degree in Firearms Technology program and it is one of the most complete firearms educational programs of its kind. The program prepares students for personal development and/or employment in the custom gun trade, from entry-level employees to small business owners. Students learn about custom firearms, stocks, rifles, handguns, shotguns, metal refinishing, ballistics, metal work and engraving, and business principles necessary to become a gunsmith. For students looking to hone their gunsmithing skills, learn the techniques needed to operate a gunsmithing business, gain a valuable credential or expand their hobby into a career, SDI also offers a 32 semester-credit Advanced Gunsmithing Certificate.
Sonoran Desert Institute offers high quality, rigorous educational programs. The school has been an innovator since its inception and is accredited by the Distance Education Accrediting Commission (DEAC). SDI educational programs are designed predominantly for adult learners, based on principles and practices of active self-learning. Certain SDI programs are also approved for use of the G.I. Bill and other VA benefits, Federal Student Aid (FSA), and Active Duty Military Tuition Assistance, all based on eligibility.
To learn more about on the highly acclaimed online learning programs at Sonoran Desert Institute, visit www.SDI.edu or call 800.336.8939.
About Sonoran Desert Institute (SDI):
Located in Scottsdale, Ariz., Sonoran Desert Institute is an accredited online school providing undergraduate degree and certificate programs in firearms technology. SDI is dedicated to offering affordable, premium, distance-delivered career education that provides a labor market advantage to its graduates.
For more information on Sonoran Desert Institute, call 800.336.8939 or visit www.SDI.edu.