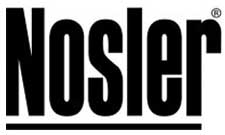 BEND, Ore. -(Ammoland.com)- Nosler, Inc. is excited to introduce the patriarch of the Nosler cartridge family – the 33 Nosler.
The "33" shares the same parent case (404 Jeffery) as the rest of the family but fires .338 caliber bullets which are generally known for being tough on big game as well as having high Ballistic Coefficients and Sectional Densities for excellent interior, exterior and terminal ballistics.
The 33 Nosler is capable of propelling a 225gr AccuBond at 3025 fps and the brand new 265gr AccuBond® Long Range at 2775 fps.
That's 275 fps faster and 20 percent more energy than the 338 Winchester Magnum using the same length action and 25fps faster than the 338 Lapua Magnum at the muzzle while burning 18 percent less powder.
The 33 Nosler is a SAAMI standardized cartridge making for consistent brass and chamber dimensions industry wide.
Nosler will be supporting this new cartridge with Nosler Brass, Trophy Grade Ammunition and naturally, their full line of M48 rifles in 26" barrel configurations which should be made available for delivery by the end of Q1, 2017.
The initial 2017 Trophy Grade Ammunition offerings for the 33 Nosler are aimed at providing the ideal blend of velocity, power and downrange terminal performance.
They are listed below:
Nosler Trophy Grade Ammunition – 225gr AccuBond, 3025fps & 4589 ft/lbs at the muzzle
Nosler Trophy Grade LR Ammunition – 265gr AccuBond, LR 2775fps & 4545 ft/lbs at the muzzle
Nosler will also be offering a Match Grade Ammunition offering for the 33 Nosler detailed below:
Nosler Match Grade Ammunition – 300gr Custom Competition HPBT – 2550fps at the muzzle
About Nosler:
Founded in 1948, Nosler, Incorporated is a family owned company located in Bend, Ore. Nosler is most known for revolutionizing the hunting bullet industry with bullets such as the Partition, Ballistic Tip, AccuBond, E-Tip and most recently the AccuBond LR. With the company motto of "Quality First," Nosler manufactures premium component bullets, reloading brass, ammunition and semi-custom rifles for domestic and international customers making Nosler a comprehensive shooting products company. Nosler products are used worldwide by discriminating hunters, shooters, military and law enforcement professionals and sportsmen.
For more information, visit: www.nosler.com.