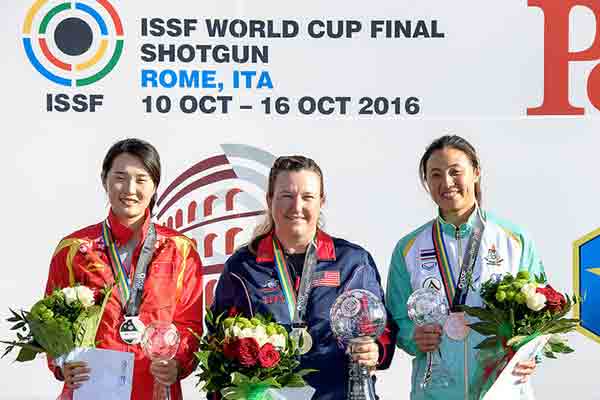 COLORADO SPRINGS, Colorado –-(Ammoland.com)- Kim Rhode and Jeff Holguin just added more hardware to their World Cup Final medal collections when they won gold and silver respectively today at the International Shooting Sport Federation (ISSF) World Cup Final for Shotgun in Rome, Italy.
Rhode tied Chiara Cainero of Italy for the highest score in Women's Skeet Qualification (71/75 targets) to earn her spot in the Semifinal. Rhode (El Monte, California) would then have to compete in a three-way shootoff to advance to the gold-medal match where she would best Meng Wei of China by one target by shooting a perfect 16/16 targets to win the gold medal. Wei – who Rhode faced off against in the bronze-medal match at the Olympic Games just two months earlier – would claim silver and Sutiya Jiewchaloemmit of Thailand would take home bronze. This match was Rhode's first World Cup Final appearance since 2011 when she also won a gold medal in Women's Skeet. Today's medal win brings Rhode's World Cup Final medal total to five.
"It was an incredible experience," Rhode said. "We had some fantastic competitors out there, a lot of experience on the line. I am just very happy to be able to compete against them, and do as well as I did. I am very thankful for the day."
Rhode (pictured above) won bronze in Women's Skeet at the Olympic Games in Rio de Janeiro, Brazil, just two months earlier, bringing her medal total to six medals in six consecutive Olympic Games.
Amber English (Colorado Springs, Colorado) just missed out on a spot in the Finals to finish in seventh place. She tied Wei with 69/75 targets in Qualification in sixth place, but would lose 2-1 in a shootoff to qualify for the last spot in the Final. At just 17 years old, Katie Jacob (Rochester, Michigan) finished in 11th place (67/75 targets) in her World Cup Final debut.
Holguin (U.S. Army Marksmanship Unit/Yorba Linda, California) qualified for the Men's Double Trap Semifinal on a chilly morning in Rome in second place with 141/150 targets. At the conclusion of the Semifinal round, he was forced into a three-way shootoff to advance to the gold-medal match where James Willett of Australia would best Holguin by one target, 28-27, to claim the gold medal. William Chetcuti of Malta would win the bronze.
"World Cup Final is always a great match because you are up against the winners from the whole year," Holguin said. "I came here to win this thing and although I came up a little bit short, I'm pleased with my performance, considering how many layers of clothing I had on in the morning and how much these targets here in Rome varied."
Today's match marked Holguin's sixth appearance in a World Cup Final and his silver-medal win brings his World Cup Final medal total to three. Holguin (pictured right) won gold in 2014 and bronze in 2009.
Men's Skeet Qualification also started today with the first two rounds of 25 targets each. Vincent Hancock (Eatonton, Georgia) is currently tied for fifth place with 47/50 targets. Three additional rounds of 25 targets each will be contested tomorrow, along with the Semifinal and medal matches.
The top athletes from the 2016 ISSF World Cup series who earned points in the four stages in Nicosia, Cyprus, Rio de Janeiro, Brazil, San Marino, San Marino and Baku, Azerbaijan qualified for their slots in this World Cup Final, along with the medalists from the 2016 Olympic Games and 2015 World Cup Final title holders. Fifty-five athletes from 25 countries are competing at this World Cup Final.
For complete results from the ISSF World Cup Final for Shotgun in Rome, Italy, please visit the ISSF website.
*The ISSF provided some editorial assistance and photos this press release.