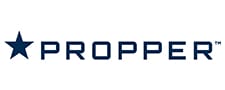 St. Charles, MO -(Ammoland.com)- Propper International is proud to announce a partnership with internationally-renowned tactical trainer Wes Doss, founder and president of Khyber Interactive Associates, as a new brand ambassador.
"We are excited to have Wes on board," said John Negrau, Propper's Director of E-Commerce. "Wes and his team at Khyber bring decades of tactical experience and know-how to Propper."
Propper will be the official apparel sponsor of the 2017 Lights, Sights, and Lasers (LSL) tour, as well as other Khyber training events throughout the year.
In addition to endorsing Propper's full line of apparel and tactical gear, Doss will appear with Propper at events, including SHOT Show and others.
"It's great to have Propper as a sponsor this year and we are proud to work with them," Doss said. "They've been making top-of-the-line tactical gear for the military, law enforcement, and civilian worlds for 50 years, and I'm proud to be working with such a great company."
About Wess Doss:
Wes Doss is an internationally recognized firearm, tactics, and use of force instructor with over 20 years of military & civilian criminal justice experience, as well as significant operational time with both military & law enforcement tactical operations & protective service organizations. He holds specialized instructor certifications from the U.S. Army, the U.S. Marine Corps, Arizona POST, the Smith & Wesson Academy, the Sigarms Academy, the NRA LEAD, FEMA, and the Department of State.
About Propper:
Making tactical gear with a purpose has been a way of life for Propper, since their U.S. Navy contract in 1967. Today, Propper designs and manufactures tactical clothing and gear that keeps military, law enforcement, and public safety professionals protected whether they're in the service, on the job, or off for the weekend.