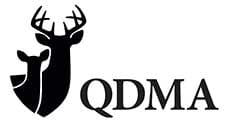 ATHENS, GA. -(Ammoland.com)-  Are you hunting the whitetail rut? The Quality Deer Management Association (QDMA) wants to know about it and is offering prizes for the best social media photos tagged with #RutRollCall from November 1-15, 2016.
To answer QDMA's #RutRollCall and enter the contest, simply post a hunting photo on social media (Facebook, Instagram or Twitter) between November 1 and 15, tag the relevant QDMA social media account, and use #RutRollCall in the post.
After November 15, QDMA will select the best photo entered in each of five categories: 1) In the Deer Stand, 2) Deer Harvest, 3) Youth, 4) Group or Deer Camp, and 5) Team QDMA (includes a QDMA logo in the photo).
QDMA will also select an overall winner from among the five category winners.
Category Prizes:
SWAG bag including Bear Archery t-shirt and cap, QDMA cap, 6 Carbon Express Whitetail arrows, a "QDM Practiced Here" sign, Hooyman ratchet pruners, a Bass Pro Shops boat bag to carry it all, and a one-year membership to QDMA.
Grand Prize:
A new Bear Legion compound bow, equipped "Ready to Hunt" with an arrow rest, sights and stabilizer (70-lb. peak draw weight, 80% let-off, 26 to 31 inch draw length).
So, don't hunt the rut without checking in with QDMA! Share your enjoyment of our deer-hunting heritage by answering the #RutRollCall!
About QDMA:
QDMA is dedicated to ensuring the future of white-tailed deer, wildlife habitat and our hunting heritage. Founded in 1988, QDMA is a national nonprofit wildlife conservation organization with more than 60,000 members in all 50 states and Canada.
To learn more about QDMA and why it is the future of deer hunting, call 800-209-3337 or visit www.QDMA.com.