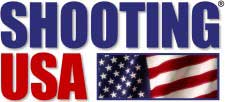 USA – (AmmoLand.com) – It's the only pistol, rifle, and shotgun challenge held on an active duty Army Base. If running and gunning stage challenges is simulated combat, it doesn't get any more real than when the Army Marksmanship Unit sets up the challenges and adds full-auto fire and Abrams Tanks! Civilians who compete at the Fort Benning Three-Gun Match are forced to utilize hardware from the Army's vast inventory, which includes wearing an Army-issue gas mask on one stage, and shooting the M249-SAW, or Squad Automatic Weapon, on another.
Plus the enhanced Garand! The firepower advantage of the M1 prevailed during World War Two, but combat service arms were advancing to select fire. So, work began on a replacement that turned out to be the U.S. Service Rifle M14, and is now one of History's Guns.
And Blackhawk! Pro, Todd Jarrett shows you real world rifle training, while shooting around his rental car. Tune in Wednesday to Outdoor Channel!
AIR TIMES BY TIME ZONE
The Shooting USA Hour Wednesday:
Eastern Time: 9:00PM, 12:30 AM, 4:00 AM (Thurs.)
Central Time: 8:00 PM, 11:30 PM, 3:00 AM (Thurs.)
Mountain Time: 7:00 PM, 10:30 PM, 2:00 AM (Thurs.)
Pacific Time: 6:00 PM, 9:30 PM, 1:00 AM (Thurs.)
Shooting USA is listed as a one-hour show in your cable menu.
Stay Connected!
Be sure to "Like" Shooting USA on Facebook for behind-the-scenes action, and "Follow" us on Instagram too.
About Shooting USA:
Jim Scoutten, America's Most Watched Firearms Reporter, has been on the beat for 24 years, reporting the stories of the Shooting Sports and the firearms Industry. The show produces a series of popular segments focusing on historical guns, the personalities in the sport and industry, insider reports from gun tests, and practical tips from shooting sports pros. The show appeals to shooting sports enthusiasts of all ages and skill levels by providing practical tips on safely handling, modifying and repairing their favorite guns.
For more information, please visit www.ShootingUSA.com.