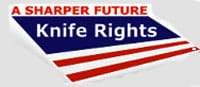 Gilbert, AZ –-(Ammoland.com)- "We hold these truths to be self-evident" that "the Blessings of Liberty" that we often take for granted, would not exist but for the sacrifices of generations of veterans who served to ensure that these United States "shall not perish from the earth."
Great words from great minds; principles and ideals carried on the shoulders of veterans since the country's founding.
A nation cannot long exist without soldiers willing to sacrifice for that nation.
Remember today these veterans who have served. Honor today these veterans who have served. That we have a right to fight for a Sharper Future is but a reflection of their sacrifices. Never forget!
Doug Ritter
Chairman / Executive Director
Knife Rights, Inc.
Knife Rights Foundation, Inc.
www.KnifeRights.org
Email:[email protected]
About:
Knife Rights (www.KnifeRights.org) is America's Grassroots Knife Owners Organization, working towards a Sharper Future for all knife owners. Knife Rights is dedicated to providing knife owners an effective voice in public policy. Become a Knife Rights member and make a contribution to support the fight for your knife rights. Visit www.kniferights.org