NASHVILLE,Tenn. (Ammoland.Com)  – Open the Cage Gear, LLC, (OTC) a multifaceted lifestyle company, steps into the chute with a co-branded clothing launch with Priefert, America's No. 1 name in farm, ranch and rodeo equipment. The line, now available at OpenTheCageGear.Com, includes a men's premium t-shirt with an old-fashioned whiskey bottle graphic and woman's premium top featuring a soaring Pegasus. Both have OTC's signature phrase, "Life is a fight…Open the Cage." Watch the official launch video at OpenTheCageGear.Com.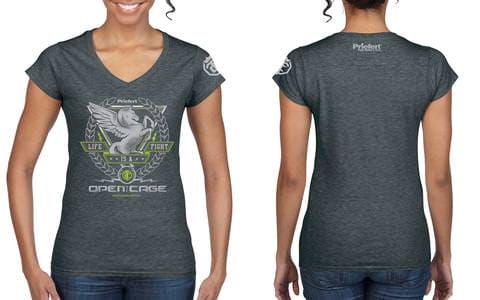 The Priefert line complements the original clothing line that launched earlier this year. "These new designs were inspired by the extreme athletes of the sport of rodeo – these are beings who are not willing to settle for anything less than the ultimate experience in life," said Jim Kinsey, co-founder of OTC, LLC. "We have an explosive synergy between Priefert and OTC, and our goal collectively is to honor the hard working traditions and inspire a whole other generation to saddle up, bear down, and hang on for this wild ride we call life. So, hats off to The Farmer, The Rancher, The Cowboys and Cowgirls."
"Priefert is honored and excited to be partnering with Open the Cage to create a clothing line that truly embodies the spirit and the authenticity of the world of rodeo," said Courtney Dyer, director of marketing for Priefert. "OTC's concept resonated with us and who we know our customer base to be – a group of hard working men and women who wake up each day inspired to live life to the fullest and to take on any challenges that come their way.  This line reaches out to our customers in a very unique way with quality materials and amazing designs that a lot people will want to wear not just at home on the ranch, but out on the town, or anywhere else that life may take them."
Open the Cage Gear, LLC is headquartered in Florence, Mont. with sales operations in Nashville, Tenn. and Cincinnati, Ohio. Kinsey partnered with Nashville music artist Michael Connors and producer Mike Hartnett after they worked together on the song, "Open the Cage" in 2014. Kinsey further explains the company as a true lifestyle brand, "It started out as an MMA brand. But we knew the brand could be so much more. We wanted to reach everyday people with a message of moving forward. That's where our motto, 'life is a fight …open the cage' came into play. Just like in the rodeo – you have to open the Priefert chute, get on that bull and ride."
"Each item is a premium fashion t-shirt. The shirts can be worn from day to nights out and the quality designs and craftsmanship will make Open the Cage brand shirts stand apart from others. If you just want to wear a t-shirt, that's fine, but if you want to wear a quality t-shirt with meaning, then you'll want Open the Cage Gear," concluded Kinsey.
About Open the Cage, LLC
Open the Cage, LLC is a multifaceted lifestyle company that includes Open the Cage Gear and OTC Music Group. The music side started first and gave birth to the Open the Cage Gear clothing line. Three friends and partners operate the music label: artist Michael Connors, multi-platinum producer Mike Hartnett and award-winning videographer and songwriter, Jim Kinsey. The success of original songs such as, "Red Platoon," "Remember the Fallen" by Billy Dawson, "The Legend" and "What Say You" have helped expand the Open the Cage brand.  These songs will have their own line of OTC apparel emerging soon called the "Hero Line." The Hero Line will draw attention to heroes that have served America and sacrificed for the cause of freedom. Plus, it will raise awareness with current issues servicemen and women face. Other groups that will be a part of the hero line are Mark OZ Geist from 13 Hours, the movie, and Stewart Smith, with more to be named. Learn more at http://openthecagegear.com