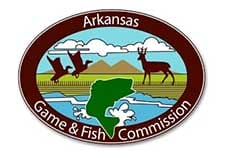 LITTLE ROCK –-(Ammoland.com)- Wildlife Officer Joel Campora and Scott County Sheriff Cody Carpenter will be honored with two Memorial Mile signs in an unveiling ceremony at 11 a.m., Dec. 17 at Chant Pentecostal Church in Y-City, Arkansas.
The two men died during a swift-water rescue attempt in western Arkansas May 31, 2013. The two women they were trying to rescue also perished in the flood.
Campora had been a wildlife officer with the AGFC since 2007. He was assigned to Scott County and lived in Waldron with his wife and two children. He was noted for the many community-based events he attended. Campora was an instructor for boating education and hunter's education classes. He also participated in several school programs at Waldron High school. He also worked at the Outdoor Youth Expo and organized kid's fishing derbies. Campora also worked boating safety by participating in Operation Dry Water and the Big Bass Bonanza on the Arkansas River.
In addition to being involved with public relations programs, Campora had spent a great deal of time assisting youth in his community. He was a Deacon in his church and served as a youth leader and mentor.
Campora worked closely with city, county, state and federal law enforcement agencies in Scott County. He assisted the U.S. Forest Service by conducting deer decoy sets, illegal dumpsites, boating, littering enforcement, alcohol and drug enforcement and marijuana eradication on National Forest land.
He was instrumental in developing information that assisted the Federal Bureau of Investigation in arrests of individuals involved in a large international drug distribution network that was operating within the state.
"Joel was much more than a model officer, he was part of the AGFC family," said Col. Pat Fitts, chief of the AGFC's Enforcement Division. "The single selfless act that cost him his life was only one of many times when he put himself in harm's way for the people of Arkansas."
Carpenter began serving in the Scott County Sheriff's Department in 1996, and eventually became sheriff in 2004. He had been re-elected to his fifth term in November 2012. Then Arkansas Attorney General Dustin McDaniel said in a news conference that Carpenter was a friend and that he "Demonstrated his professionalism, courtesy and dedication to the people of Scott County every day."