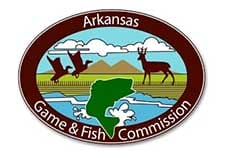 LITTLE ROCK –-(Ammoland.com)- The coldest air of the season will rush into The Natural State as the second segment of the state's duck season opens Thursday.
Arkansas's duck season has been closed since Nov. 27 for the first of two "splits" during the 2016-2017 duck season.
Extremely dry conditions and low duck numbers dominated the season's first segment. Habitat conditions have improved with recent rainfall, most notably in shallow wetlands and agricultural fields, but many of the state's wildlife management areas that are managed for waterfowl hunting need more rainfall to provide waterfowl habitat and hunting opportunities.
But cooler weather, another important factor in Arkansas hunting success, won't be in short supply in the coming days. Low temperatures for central Arkansas are predicted to plunge into the teens Thursday night, with daytime highs only reaching the upper 30s on Friday. For hunters with access to flooded waterfowl habitat, the cold weather, combined with snowfall and extreme cold in the northern U.S., could lead to improved hunting conditions during the second segment of duck season.
The season runs through Dec. 23 and closes Dec. 24-25 for the second split before re-opening Dec. 26 and continuing until Jan. 29, 2017.
Arkansas hunters should be aware of two significant changes in waterfowl hunting regulations on AGFC wildlife management areas: the use of decoys that simulate wing movement and any mechanical devices that create movement or ripples on the water except a traditional jerk string is prohibited on WMAs, and hunters must exit inundated areas of WMAs by noon. Waterfowl hunters also should be aware that It is unlawful to operate a boat in any manner that is hazardous to persons or property on any part of a WMA including ramps, structures, boat lanes or other areas.
Intentional violation of boating safety laws carry a fine of up to $5,000, a possible jail sentence of up to 90 days, revocation of the ability to access any WMA in Arkansas for one year and the loss of hunting and fishing privileges for one year.