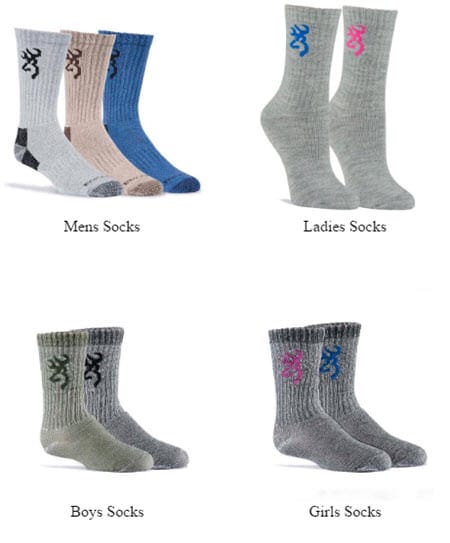 (AmmoLand.com) For first quarter 2017, Browning Socks has gone under a complete re-design to offer hunters the best options in socks for daily wear and outdoor activities. Most of the socks in the line-up are made in the USA.
The new line of Browning Socks has a wide range of styles and options for men, women, boys and girls. The socks are designed to be used for comfort and function and all feature the classic Browning Buckmark Logo.
"We are really pleased to move the line of Browning Socks forward in 2017," said Dusty Zundel, CEO. "This line of socks goes way beyond a simple branding novelty and gives users many options to fit their sock needs. Foot comfort starts with the right socks and the Browning line fits that need."
Features in the Browning Sock line include Merino Wool, arch support, moisture wicking, breathable mesh panels, seamless toe, mapped cushioning, and different warmth levels, all for added comfort and wearability. The sock line also comes in a wide range of color options and sock heights.
For more information on the entire Browning Sock line, visit www.spgoutdoors.com
SPG is the owner of Black Rhino® Tools and the official licensee of products for Browning®, Mossy Oak®, Realtree®, Ducks Unlimited®, Major League Bowhunter, Under Armour®, Bone Collector®, Hard Core™ and Big Rack.
For more information about SPG products, log on to the Signature Products Group website at www.spgoutdoors.com, or call them at 800-553-1098.