Col Ben, reviews the FN 5.7 Pistol with some surprising results.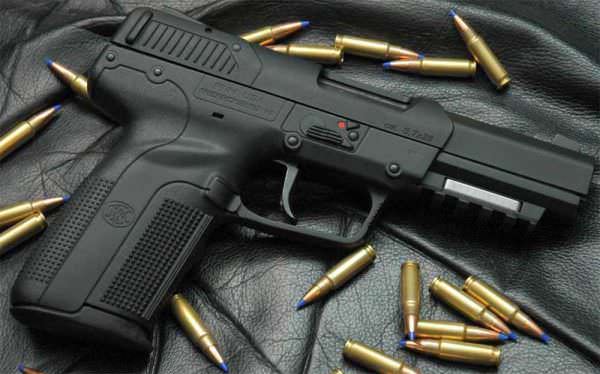 U.S.A. –-(Ammoland.com)- The cart came before the horse. The FN 5.7x28mm cartridge was developed before the FN Five-Seven pistol.
The firearms company Fabrique Nationale (FN in Herstal, Belgium) developed the 5.7x28mm (5.7) pistol cartridge in the 1980s for first use with the P90 submachine gun.
Then in 1998, they developed and introduced the 5.7 pistol for military and law enforcement use, followed in 2004 by the 5.7 for the civilian market. The 5.7x28mm cartridge was the first small caliber high velocity pistol cartridge and is based on the 5.56x45mm SS109 NATO round, which was also developed by FN. It is important to understand the characteristics of the 5.7 cartridge to fully appreciate the 5.7 pistol.
Providing improved performance over the 9x19mm round according to some, the 5.7x28mm cartridge case and bullet are reduced in size. The round has a long and slim design with bottlenecked case, pointed bullet, and is almost 4 times longer than its diameter… compared to the standard 9mm round which is about 1.5 times as long as wide.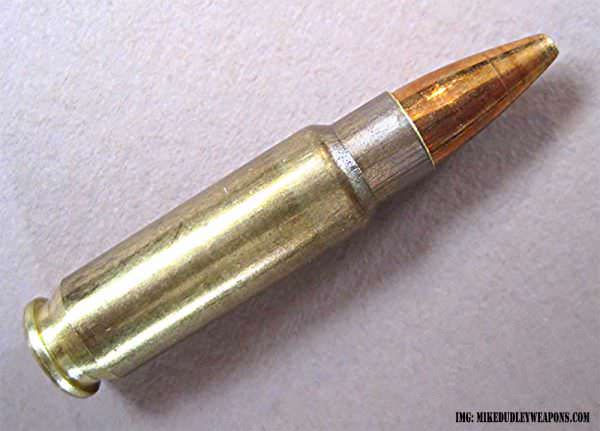 The 5.7x28mm round has its center of mass back towards the rear of the bullet. So when the 5.7 round hits the target, the bullet tends to tumble and yaw, making for a much larger wound cavity and helps the bullet's energy transfer to the target more efficiently, with less chance of it over-penetrating out the target to whatever is behind it. A big plus in minimizing risk of over-penetration to innocent bystanders.
Several say the 5.7mm has only a third of the recoil of the 5.56mm NATO and two-thirds of the 9x19mm. The cartridge pressure level is low enough so that the pistol is blowback operated and helps reduce felt recoil. These design advantages got my attention. I just had to shoot the 5.7 and see its accuracy, recoil, power, features, and performance to decide for myself.
FN 5.7 Pistol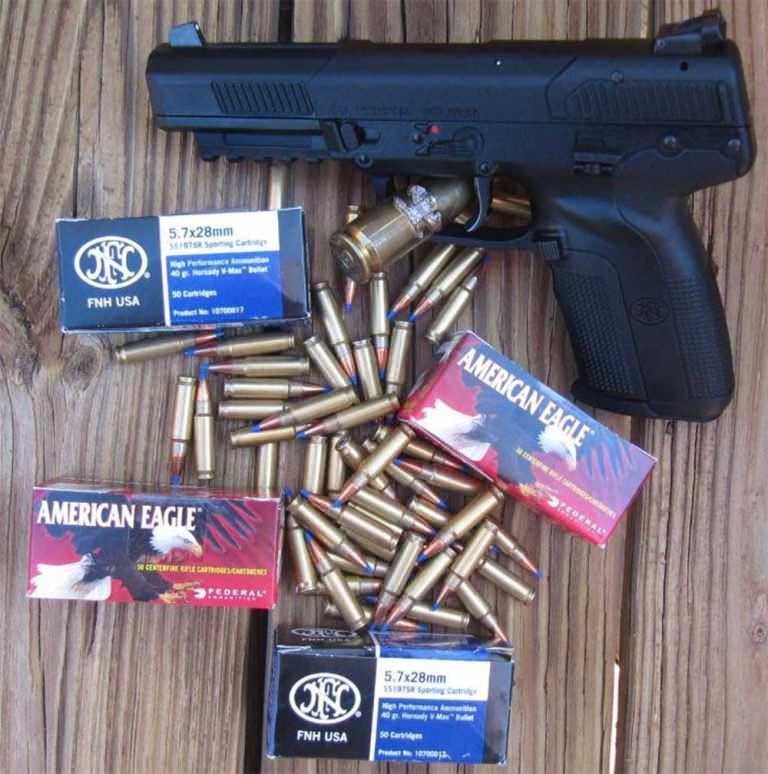 This pistol has a history of controversy, especially among gun control groups and its armor-piercing characteristics. Interestingly, an investigation by the ATF found no commercially available ammo for the civilian market fired out of the 5.7 pistol was capable of defeating ballistic armor, as some claimed. There are several different varieties of 5.7 ammo, some restricted to just law enforcement use. The second generation 5.7 cartridge was developed for law enforcement and the civilian market. The "LF" (lead-free SS195LF) rounds may be used for training and law enforcement, while the sporting rounds SS197SR are for civilian use, since armor piercing ammo is prohibited in the U.S.
Some say the cost of 5.7x28mm ammo is a major detriment. Think about this. The cost of the civilian-grade SS197SR rounds are about $20 per 50 rounds, while the SS195LF rounds are about $25 per 50 rounds. So the ammo seems closely comparable to standard grade .45 ACP and other caliber rounds. Your personal preference.
The FN 5.7 Pistol is in service now with military and police forces in over 40 nations, including Canada, France, Spain, Greece, India, Poland, and the U.S., including the U.S. Secret Service, some Navy Seals units, and the Federal Protective Service. The internal hammer of the SAO 5.7 is NOT a striker like some claim, but is always cocked when there is a round in the chamber. There is no decocker. So, I had to try the 5.7 for myself to see if this unique gun and caliber worked for me, even though I prefer the 9mm. You can compare this review with my handgun analyses, comparisons, and rankings in the 2016 second printing of my book "Concealed Carry & Handgun Essentials."
Several readers and students have asked what criteria I use to analyze my recommended handguns, so I want to give my criteria and range test results for the FN 5.7 to help you analyze your handguns and make the best selection for yourself. You can add or subtract from my criteria to meet your needs and preferences. I was very anxious to shoot the FN 5.7 and to compare it factor by factor to my other quality handguns to see how it compared and ranked. FN was nice enough to loan me one for testing and evaluation purposes.

Know that I am not on the FN payroll, have not been paid by them for this article nor influenced to say certain things about the gun. I want to be honest and straight-forward with my opinions and ideas the way I see the pistol to sincerely help folks.
Specifically, I wanted to know how accurate it is out of the box, without modifications? And what about accuracy at longer distances. Can you really feel much less recoil than a 9mm when shooting the 5.7? And the big questions– what about the trigger press? Is the trigger smooth and crisp? Is it a decent single action gun? Is it too lightweight or too large for carry? What about the reset distance for follow-up shots? Is it reliable? Are there special desirable or unique features for this particular gun? Is it ambidextrous? Can I easily reach the controls, mag release, safety, etc.? How many mags does it come with? What are its pros and cons? Are there holsters, magazines, and accessories available now for the FN 5.7? Do I recommend it and, if so, for what purpose?
What follows are two charts that list the Specifications and some Features for the FN 5.7 pistol. Then I give you my 10 criteria that I use to evaluate all guns. Finally, I present my analysis and how I specifically evaluated the gun against each of my criteria to recommend or not recommend it. As always, set your own criteria and priorities, do your own research and check my data, information, etc. with yours, for your very personal selection process.
FN Five-seveN MK II (5.7x28mm) Pistol Specifications
| | |
| --- | --- |
| Caliber - Tested - Model | FN Five-seveN MK2 Pistol; 5.7x28mm Caliber |
| Barrel Length / Finish | 4.75"; Chrome-lined, Hammer-forged Steel |
| Sight/ Radius | Standard 3-Dot Sights; Set on 7" Radius; Rear fully adjustable for windage & elevation; Tritium Self-Luminous Optional |
| Weight | 21oz (empty mag); Very Lightweight |
| Frame / Finish | Light Polymer/ Black |
| Slide Material | Stainless Steel; Black Polymer-Coated |
| Trigger-Action | Single-action, Delayed Blowback |
| Trigger Press | 6.1 lb, Crisp |
| Trigger Travel | Short Reset; Short 0.13" Takeup; No Overtravel |
| Magazines / Capacity | 3 Mags Standard - 20 Rounds Each; 10 Rounds & 30-Rounds Extended Available |
| Height | 5.70" |
| Width | 1.34" |
| Overall Length | 8.20" |
| Safeties | Ambidextrous Manual Safeties; Mag Safety |
| Grips | Checkered Polymer; Rounded |
| Other | Limited Lifetime Warranty; Replace or Repair if Defective Materials or Workmanship; Rail |
| MSRP | $1,349 |
FN Five-seveN MKII Pistol Key Features
Very Low Recoil from Efficient Cartridge & Blowback Design; Muzzle Flip Not a Concern; Flat Trajectory for Enhanced Shooting to 50 yards
Pivoting Internal Hammer Totally Enclosed within Frame; Rounded Edges & No Snag
Enhanced & Soft Single-Action Trigger- Smooth, Crisp, and Clean break; Short Reset
Very Lightweight but Solid Polymer
Loaded Chamber Indicator on Top Left of Slide; Tactical and Visible
High Capacity Mags - 20 and 30 Rounds
Comfortable & Checkered Grip Angle (like FN Browning Hi-Power)
Do not Need to Press Trigger to Field Strip
Smooth Operating Controls - Easy to Rack Slide & Load Mag into well & Mag Drops Free
Ambidextrous Manual Safety Located Above Trigger Guard - Easy Operation by Trigger Finger
Criteria and Considerations
Here are just 10 of my Criteria and factors I use for evaluating any handgun, so I will use them for the FN 5.7 full size. In addition to my criteria, there are other subjective features that may be appealing for some, like a certain style, mag release location, action, caliber, appearance, number of mags included, type of sights/modifications, bore axis, rail, grip angle, non-porting or porting, included extras like a holster and pouch, customer service, etc. So, I combined these into my last Miscellaneous criterion. I must admit that ALL gun-choice decisions involve tradeoffs, but I really want ALL of my criteria to be met. I assigned a total possible point score of 10 points for each of my 10 criteria for a total possible score of 100 points. You can certainly add your own additional criteria and preferences or subtract any of mine. Here are mine:
Accuracy and Reliability– Performs well without reoccurring malfunctions and stoppages and results in consistent, accurate target hits with a 3″ inch hit group or so at 5-15 yards for concealed carry;
Trigger Press maxiumum of about 5.5-6.5 pounds – lessens force applied for less movement & better accuracy- and press that is crisp and identifiable (TRAIN to be Trigger Safe);
Trigger with short travel distance (a short travel distance increases the speed the trigger can be fired) and easily identifiable and short reset point; Trigger with a smooth consistent press for every shot (less need to transition between presses & make adjustments);
Barrel length of 3.0″-4.8″ (primarily for home defense [full size] and/or concealed carry);
Sights that are basic & simple (easy to use & see–I like Fiber Optic fronts); fast target acquisition; for my purposes– adjustable for windage; Night Sights for low-light situations as appropriate;
Proper Gun Weight to minimize recoil (I prefer about 25 oz. or less- but there are tradeoffs;)
Caliber match to my needs, characteristics & abilities (consider medical & physical limitations); 9mm is my preference for carry;
Capacity -adequate for use & feature tradeoffs- usually prefer at least 7-8 rounds and more for other uses and calibers (but can carry a spare mag or 2 sometimes);
Ergonomics – Hand Comfort and Grip Fit, controls easy to work and easily accessible; rounded, low-profile;
Miscellaneous – Overall Finish, fit, & quality appearance & workmanship; mag release location & function to drop mags freely; ambidextrous controls; accessory rail as required; grip angle; bore axis; competitive market price; excellent customer service with friendly & helpful representatives; ease of disassembly-assembly; Hard Case; Extras (like a third mag, holster, pouch, extended & flush mags); warranty length & extent; safety factors, etc.
Recognize that there are several features, characteristics, pros and cons, and personal criteria to include and consider and you make your own tradeoffs according to your priorities, preferences, defined needs, and use.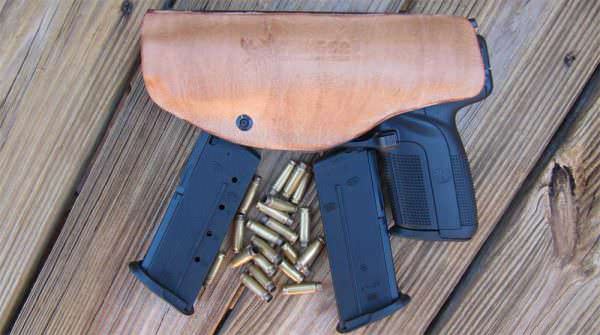 I wondered if there was enough supply of this 5.7 ammo available at reasonable cost and available mags and accessories? To my surprise, yes to all questions. I found this newly-designed leather and kydex hybrid holster for the FN 5.7 pistol. It fit perfectly, looks good, and is manufactured by Clinger Holsters (contact information below.)
FN 5.7 Pistol 5.7x28mm RANGE TEST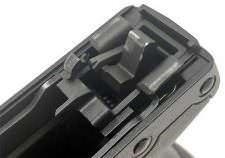 I was anxious to shoot this pistol and bought some American Eagle 5.7x28mm 40-grain ammo, AE5728A. The ammo was quickly and readily available, so I paid $25 for 50 rounds. OK, but not great. I went through this supply very quickly and had to shoot more to adequately test and evaluate it. It was very fun shooting this gun and I was amazed at its accuracy and very soft recoil for such a lightweight gun. I wanted to shoot at least 150 rounds, but it was going to cost me. Usually, I shoot 500 rounds over a couple of days to decide if I want to use the gun and how to use it best.
Below are my evaluations for each of my 10 criteria for the FN 5.7 for my home defense and range shooting purposes. I also was considering if this could be a carry gun, but after holding it and shooting it some, I knew it was just too large for concealed carry for me. I know some do carry it, however. I wanted to put the gun through its paces and check it thoroughly for malfunctions, stoppages, accuracy, and reliability.
Thanks to FNH and Federal Premium for providing some rounds of V-Max and Speer 5.7 ammo for my testing and evaluation of the pistol.
There were no malfunctions nor stoppages of any kind and the FN 5.7 pistol performed great. I liked the 20-round capacity mags. It digested the different types of ammo without any problems. I was honestly amazed at the very low recoil; much less than even my 9mms and about like my .22 mag rounds. It was easy and smooth as silk when I racked the slide and it was so easy to insert and release the mag from the mag well. Some of my arthritic and low-hand strength students will really like to rack and shoot it.
While its appearance is not the greatest, its performance more than made up for its lack of beauty. Although polymer, it just felt solid in my hands, while being very lightweight. The FN 5.7's ergonomics were fine for me. Some complain about the placement of the ambi manual safeties above the trigger guard, but I really like that. It was very easy for me to use my trigger finger (already indexed straight on the frame right next to the safety) to engage and disengage the manual safety quickly. A training issue, so practice this if you get this gun.
The FN 5.7 Pistol was comfortable in my hand and the moderately-aggressive grip texture was just right for me. The grip is thin enough, but longer and sightly wider to accommodate the 20 rounds in the mag, but for my medium-sized hands there was no problem. In fact, the grip felt just right and comfortable to me. No need for an extended mag.
Again, I want to emphasize the nice soft recoil and very low muzzle rise of this gun. A great feature and benefit to enhance accuracy.
Below I will get specific and present my ideas for each of my criteria after my range testing.
The FN 5.7x28mm single action pistol impressed me as an accurate, lightweight, soft recoil, high capacity, easy to rack gun with a great trigger press and short reset, after my range live fire.
It was really fun to shoot the FN 5.7. Seems folks avoid this gun without giving it a thorough review and trial, probably because of the unique rounds it fires and their lack of understanding of the gun's attributes.
Over different distances, especially distances of 10 to 25 yards, accuracy was very acceptable, but shoot it for yourself to make your own decisions, based on your abilities and proficiency… and budget.
FN 5.7 Pistol Range Test Results for each of my 10 Criteria:
The Accuracy of the FN 5.7 was very acceptable for me at distances from 5 yards to 25 yards. I impressed  myself, as an aging old codger, but the gun did the work. At first, I found I had to adjust the rear sights for only  elevation, as it was shooting out of the box about 4 inches low. After fine tuning it, it was right on and hits were  very good. The 6.1# trigger press of this single action gun and its crisp, soft trigger with a short reset helped my  accuracy. Some have said they noticed much improvement in the trigger and accuracy of their gun after about  1,000 rounds fired, getting closer to a 4.5 pound press. I fired 250 rounds at the range to test and evaluate the FN  5.7. I used my Modified-Isosceles Stance, a two-handed grip, & shot SS197SR V-Max blue-tip 40-grain rounds  and American Eagle AE5728A 40-grain TMJ… 10.
The Trigger Press averaged about 6.1 pounds with 10 readings from my Lyman Electronic Trigger Pull Gauge. This was right at the upper limits for my press range for my carry guns, but acceptable for my other uses. It will improve after break-in and shooting it more. I prefer that my carry guns have a max. of 6.5 pounds press or less, so this is very close and no problem. But, this gun will probably not be in my carry rotation. Of course, this is personal preference and training related, but I know some of my recommended and actual 9mm 1911-style single-action carry guns have lighter presses. I analyze and compare 21 of my top 21 guns in my recent book. I liked that the trigger press was crisp and easily identifiable… 9.
The Trigger had a tactile and very identifiable click and short reset. I liked the short and positive reset and very crisp trigger. My shots were consistent each time and I could easily recognize the reset point. I really enjoyed shooting it, but wish the price of ammo would be less. An excellent soft and smooth SAO trigger… 10.
The 4.75-inch chrome-lined Barrel combined with its lightweight, delayed blowback operation, and single-action to give a surprisingly low muzzle flip and recoil. Very manageable for a large majority of folks. The hammer-forged steel barrel was of high quality and coated with polymer… 10.
The 3 dot sights were small to medium-sized, distinguishable, and set on a 7″ radius. They are also available in tritium night sights as an extra option. The rear sight is fully adjustable for windage and elevation. Out of the box, the sights were off about 4″ low, but I adjusted it and then no problems for the short term. The sights were certainly acceptable, but with my impaired vision and color blind eyes, I prefer the bright green fiber optic front sight for a better lock on to the front sight and definitely wanted larger sight dots, especially for long-distance shooting… 8.
The overall 21 ounces unloaded weight was very light and even the light loaded weight surprised me with its minimal influence on accuracy and handling. Recoil was less, not more, with the light polymer gun. Mostly due to the lightweight caliber ammo and gun design. The weight is certainly very acceptable… 9.
It was easy and comfortable to shoot the 5.7x28mm Caliber. The FN 5.7 Pistol has a delayed blowback design matched to the ammo. Felt recoil was much lower than I expected and the recoil was very easy for me to control. It digested the two types of ammo easily without a single malfunction or stoppage. The lightweight made it comfortable for handling and the recoil was not a problem. Ammo experts tell me (not my expertise) that the tip of the 5.7x28mm rounds have a steel penetrator and aluminum core that is heavier than the forward tip, causing the bullets to tumble and yaw in soft tissue after 2 inches of penetration, creating a large wound cavity and virtually eliminating the risk of overpenetration and subsequent unintended injuries. This is an important advantage… 10.
Outstanding Capacity. There were 3 20-round magazines included and this was convenient for range practice and is also helpful for personal protection. Lightweight polymer 10-round and 30-round mags are currently available. SAFETY FIRST ALWAYS! … 10.
The Ergonomics of the FN 5.7 Pistol were very nice. Aside from its detracting appearance, form, function, and fit were excellent. The contemporary grip texturing was just right for me & easy to handle with my sweaty palms. The grip's body was ample to allow me to acquire a firm & comfortable grip with my medium-sized hands. I was able to easily reach all the controls. I could not get an improper grip. There are 2 small "wings" by the rear cocking serrations to help with racking & chamber check. Love the smooth lines and safety above the trigger guard. … 9.
Miscellaneous. As always before shooting any new gun, I disassembled, lubed and cleaned, and re-assembled the FN 5.7 before I shot it. I did NOT have to press the trigger to disassemble it and it was very easy and quick to do. There was an internal firing pin safety, mag safety, as well as the ambidextrous manual safeties. I liked the placement of the manual safeties above the trigger guard. The gun can be bought for near $1,000, if you shop. There is a Limited Lifetime Warranty…. 8.
Total Points = 93 out of 100 Possible. I certainly RECOMMEND the FN 5.7 Pistol for consideration for your range plinking fun and for personal protection in the home or a possible carry alternative, depending on your needs, etc.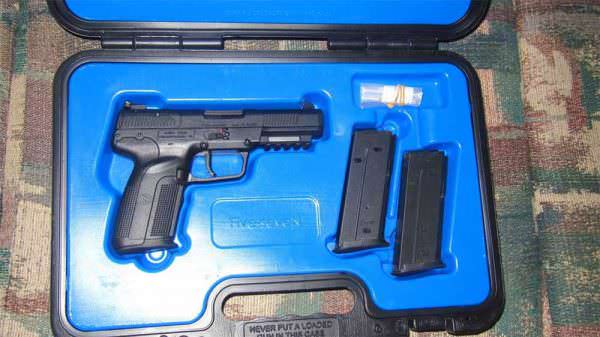 CONCLUSIONS
The FN 5.7 pistol is more than a unique conversation gun with a "cool" fun factor and its fine attributes can be used to help your personal protection in my opinion. Once you understand the history and technical specifications of the various 5.7x28mm rounds, you can better appreciate the caliber, its efficiency and effectiveness, and the related fine pistol that uses the ammo. The accuracy, low recoil, lightweight, high capacity, and minimal 10.5-11.5″ penetration to avoid collateral injuries benefits outweigh the gun's purchase price and present moderately-priced ammo cost, given the comparative options. The benefits of potential life or death protection outweigh the costs in my opinion. With so much going for it, and little downside, I think it deserves a more thorough review, testing, and evaluation by most folks for not only fun plinking, but for personal protection. These are just my opinions and ideas, so handle and shoot it for yourself. I hope this review of the FN Five seveN, single action pistol has helped you gain some information you did not previously have. Consider that these are just my opinions with limited live-range fire and shooting myself only 250 rounds of ammo, some at my expense. You need to determine for yourself its reliability and accuracy by your own shooting and handling of the gun. Like always, I recommend that you shoot any handgun yourself before you purchase it. Decide on your criteria, how you will primarily use the gun, and what features are important to you and you are willing to pay for ahead of your range time. Then critically evaluate the gun YOURSELF per your criteria and purpose, with standard drills (several mentioned in my book), with various ammo types, over an extended break-in period of about 500 rounds. Remember, Safety First Always.
Continued success!
CONTACTS:
FN America at: www.FNAmerica.com; 1-855-536-4872; 703-288-3500; McLean, VA 22102.
Clinger Holsters at American Concealment Solutions, LLC: www.ClingerHolsters.com; 1-479-650-0379; Van Buren, AR 72956.
FNH & Federal Premium Ammo for FN 5.7 Pistol 5.7x28mm ammo: www.FederalPremium.com; 1-800-379-1732; Anoka, MN 55303.
Photos by Author.
* This personal opinion article is meant for general information & educational purposes only and the author strongly recommends that you seek counsel from an attorney for legal advice and your own personal certified weapons trainer for proper guidance about shooting & using YOUR firearms, self-defense and concealed carry. It should not be relied upon as accurate for all shooters & the author assumes no responsibility for anyone's use of the information and shall not be liable for any improper or incorrect use of the information or any damages or injuries incurred whatsoever.

© 2016 Col Benjamin Findley. All Rights Reserved. This article may not be reprinted or reproduced in whole or in part by mechanical means, photocopying, electronic reproduction, scanning, or any other means without prior written permission. For copyright information, contact Col Ben Findley at [email protected]
About Col Ben Findley
"Col Ben" is retired with 30 years service in the U.S. Air Force, with joint services Special Ops duty and training, and is Air Force qualified as "Expert" in small arms. He is a Vietnam-era Veteran. Ben is an experienced NRA-Certified Pistol Instructor, NRA Range Safety Officer, and FL Concealed Carry License Instructor.
Ben recently wrote the book "Concealed Carry and Handgun Essentials for Personal Protection" (second printing 2016) with 57 comprehensive Chapters about concealed carry and handgun principles, techniques, and tips for both experienced and new shooters. His reference book is endorsed by several organizations and is available on his website at www.FloridaHandgunsTraining.com. Contact him at [email protected]