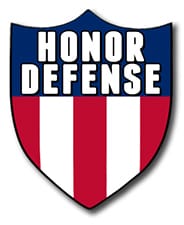 USA – -(Ammoland.com)-  Honor Defense is proud to announce they are now shipping new models of the popular Honor Guard line. Long Slide versions with and without a Manual Thumb Safety are now available.
These pistols join the Sub-Compact models that are available with and without a Manual Thumb Safety. Along with the FIST, Honor Defense has launched five(5) new 9mm handgun models in 2016. That's more than any other company in the industry.
All versions share the same modular stainless steel chassis and have more features than any other single stack 9mm in the marketplace.
Every pistol is hand-assembled and proof-tested by veterans. The pistols are 100% American with domestic materials and stainless steel parts machined in the USA by American companies.
Honor Guard Handgun features include:
Stainless Steel Chassis system that is modular and allows an exchange of frame sizes
Ambidextrous controls (magazine release, Slide catch, optional Manual Thumb Safety)
Two different size back straps for custom fit
No trigger pull or tools needed for dis-assembly
Custom texture and grip
Custom serrations over the top of the Slide
Snag-free sights
Striker-fired with a 7lb pull and short reset
+P rated
While others use plastic, the Honor Guard pistols also feature CNC machined Striker Block, Striker, Striker Housing, a precision barrel and stainless steel Slide machined from solid stainless bar stock.
The Honor Defense pistols are easily accessorized with over 100 holster options, lasers from Crimson Trace and night sights from top manufacturers.
The Sub-Compact model weighs 22oz and features a 3.2″ barrel while the Long Slide features a 3.8″ barrel and weighs 26 oz. All pistols ship with one 8-round and one 7-round stainless steel magazine, two different size back straps and a cable locking device.
The combination of features offered by the new Honor Guard pistols results in fast, accurate shooting and rugged reliability and comfort that is the hallmark of Honor Defense firearms.
For more information on the Honor Defense® or to learn more about the extensive line of highly regarded Honor Defense firearms, visit www.HonorDefense.com or https://www.facebook.com/HonorDefense/
Honor Defense firearms represent the next generation of modular handguns. Honor Defense firearms have more features than any other sub-compact pistol. Every part is manufactured in the U.S.A. to our highest standards. You can't buy a better pistol right out of the box. To create their pistols, Honor Defense secured input from a panel of professionals that have defended our nation or have extensive credentials in self-defense training.