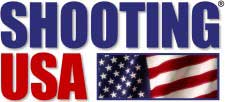 USA – (AmmoLand.com) – In the beginning, practical pistol competition was dominated by single stack 1911 design pistols, but then came the enhancements thanks to STI's high capacity 2011 guns, with double stack magazines. Today, they are carried by police, military units, civilians, and also by the professionals who take the challenge at the STI Limited National Championship in Florida. John Scoutten has our coverage, with analyst Tony Pignato.
Plus, the best in the sport compete in Tennessee Bullseye. Who can keep it in the X-ring?
And we're breaking down options for the new division in USPSA and Steel Challenge competitions: Pistol Caliber Carbine. Tune in Wednesday to Outdoor Channel!
AIR TIMES BY TIME ZONE
The Shooting USA Hour Wednesday:
Eastern Time: 9:00PM, 12:30 AM, 4:00 AM (Thurs.)
Central Time: 8:00 PM, 11:30 PM, 3:00 AM (Thurs.)
Mountain Time: 7:00 PM, 10:30 PM, 2:00 AM (Thurs.)
Pacific Time: 6:00 PM, 9:30 PM, 1:00 AM (Thurs.)
Shooting USA is listed as a one-hour show in your cable menu.
Merry Christmas to All
As we take some off to enjoy this holiday season with our families, we hope you do the same. From our family to yours, Merry Christmas!
Stay Connected!
Be sure to "Like" Shooting USA on Facebook for behind-the-scenes action, and "Follow" us on Instagram and YouTube too.
About Tier One Media, LLC: Tier One Media produces Television Properties under the registered trademarks Shooting USA and Shooting USA's Impossible Shots. The program series are seen weekly on two National Outdoor Category Networks, Outdoor Channel and Sportsman Channel with a combined reach exceeding 70-million US households. Tier One Media is a privately held, independent production company based in Franklin, Tenn. See more at http://www.shootingusa.com.