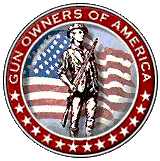 USA -(Ammoland.com)- I'm sure you heard the recent news.
President Obama last week sent the UN Arms Trade Treaty to the Senate for ratification. He's desperate to get lasting gun control enacted, given his frustration with the gun-owning grassroots over the last eight years.
To put it quite simply: we gave Obama a good old fashioned "drubbing" during his presidency.
In a recent CNN interview, Obama admitted that his failure to enact gun control was the "one area where I feel that I've been most frustrated."
So to you and all the other GOA activists who have stood with us over the past several years to oppose Barack Obama's agenda, I say "thank you."
You are the reason that Obama is so very frustrated — and you can get a glimpse of our efforts by looking at highlights we've posted over the past two years.
See:
* GOA's Top Ten Highlights in 2016 – which includes our triumphs in the elections, in the Congress and courts, and in the states.
* GOA's Top Ten in 2015 – including victories before the U.S. Supreme Court and our successful efforts to neutralize Barack Obama's agenda.
I'll get back to the Arms Trade Treaty below. But first, I want to make sure I give you this important news.
About Gun Owners of America (GOA):
Gun Owners of America (GOA) is a non-profit lobbying organization formed in 1975 to preserve and defend the Second Amendment rights of gun owners. GOA sees firearms ownership as a freedom issue. `The only no comprise gun lobby in Washington' – Ron Paul.
For more information, visit: www.gunowners.org.