By Rick Ector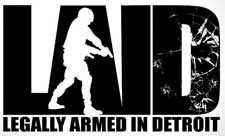 Detroit, Michigan – -(Ammoland.com)- Celebratory Gunfire is a New Year's Day custom that annually endangers communities all across the United States. It occurs when a reveler aims his firearm at the sky and discharges it to audibly mark the start of a new year.
It is currently less than 48 hours before the next New Year's Day arrives. Accordingly, some citizens in our country are preparing to welcome the new year by shooting their guns at clouds.
On this night in Detroit – and in other populous cities such as Chicago, Cleveland, Las Vegas, Baltimore, and others – public safety officials will be urging their respective citizens to not "ring in" the new year with celebratory gunfire. Personally, I also think that celebratory gunfire, at least in Detroit, is more of a liberty that some people take to make a dramatic announcement that their home is not safe to invade or burgle down the road than it is a celebration of a new year.
Anyone who engages in the practice of celebratory gunfire is an idiot. The discharged bullets have to come down somewhere. As a child growing up in Detroit, I had often heard a popular idiom that aptly illustrates why celebratory gunfire is so perilous: "Bullets don't have names on them."  
A stray slug may end someone's life almost as soon as a new year is starting.
Thus, I implore all of you to not participate in celebratory gunfire. Also, don't be the guy who claims that bullets, fired vertically straight into the air, are incapable of killing someone when they fall down. Celebratory gunfire is dangerous and has bad news written all over it.
If you want to shoot on New Year's Day, go to a gun range with approved backstops. 
Hopefully, I will see you all safely into 2017.
About The Author
Rick Ector is a National Rifle Association credentialed Firearms Trainer. He provides Michigan Concealed Pistol License (CPL) training in Detroit at his firearms school – Rick's Firearm Academy of Detroit. Earlier this year, he was recognized as a "Defender of Liberty" by the Second Amendment Foundation at the 31rst Annual Gun Rights Policy Conference.