Mike Searson reviews the Savage Arms 110 BA Rifle, and likes it!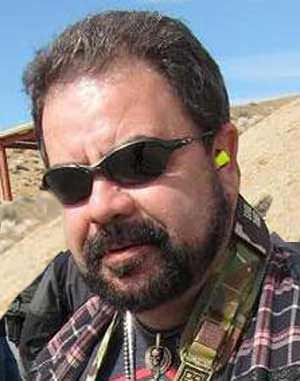 USA –  -(Ammoland.com)- The 338 Lapua Magnum round was the first rifle round specifically developed for long range sniping.
Developed in 1982, it came to worldwide attention when British Sniper Craig Harrison made use of it to take out two Taliban machine gunners at 2,700 yards in 2009.
Savage Arms makes several rifles in this caliber and today we will be looking at one of our personal favorites: the Savage 110BA.
If the first impression upon seeing the Savage 110 BA is that the rifle is big, the second will probably be "and heavy". The rifle seems built more like a bench rest rifle as opposed to a tactical rifle and it tips the scales at 16 lbs.
Once you get past the shock and awe of the size, you notice that it is loaded with custom features.
The butt stock is made by Magpul Industries as the PRS-G3 with an adjustable length of pull, an adjustable cheek rest and a rubber recoil pad with an aluminum core for reduced fatigue. The PRS-G3 is molded from nylon reinforced polymer and includes a sling mounting bracket. The pistol grip is a copy of the Heckler & Koch PSG1 with an adjustable palm shelf.
Instead of a traditional wood or fiberglass stock, you get a chassis system. The chassis of the rifle is aluminum with left, right and top Picatinny rails. The top rails include a rear rail with a 20 MOA riser and a forward rail to accept a night vision or thermal imaging device. The 20 MOA riser is important for long distance shots and vital when shooting the 338 Lapua. There is no lower rail, simply a single sling swivel for attachment of a bipod.
Unfortunately most of the high-speed, low-drag bipods suitable for the Savage 110 BA attach to a rail system. Meaning, unless you want to use a Harris or similar bipod, you will need to invest in a rail adapter.
The fluted heavy barrel is free-floated to provide a high degree of accuracy. The "flutes" are essentially grooves that are cut into the length of the barrel to help in dissipating heat. The muzzle is threaded to an industry standard 5/8×24 (5/8-24 UNEF-3A) thread pitch and a muzzle brake is installed which tames recoil to the level of a 308 Winchester round. The twist rate of the barrel is 1 in 9″. This allows the bullet to rotate along its center axis at a faster rate for stabilization and allows new bullet designs such as the all-copper and Very-low-drag bullet (VLD)-style projectile to remain stable in flight.
Instead of designing an entirely new magazine, the Savage 110 BA uses the Accuracy International detachable five-round, single stack box magazine.
The 110 BA comes with the Savage Arms developed "Accu-Trigger". This trigger is intended to give a shooter the flexibility to set trigger pull from 1.5 to 6 lbs. and it cannot be adjusted below the minimum setting.
With a street price between $1900 and $2200, the Savage represents an entry-level long range rifle in terms of cost, but the attention to detail in the build and the components used, put it on par with similar rifles costing twice as much.
For a scope we mounted a SWFA fixed 16X Super Sniper with a 30mm tube in a set of Burris 30mm Tactical Rings.
Do not let the cheesy name fool you, these fixed power scopes can be had for less than $400. We run them on a number of our rifles for long range when we do not need a variable powered optic. The glass is surprisingly clear for the price, uses a Mil-Dot reticle and most importantly will stand up to the abuse from cartridges like the 338 Lapua and 50 BMG.
We sighted the rifle at 300 yards, but warn that this is a bare minimum. The nature of 338 Lapua will give poor group sizes at ranges below this because the bullet has not fully stabilized. In the past we noticed our groups at shorter ranges were bigger than they were at longer distances.
Savage Arms 110 BA Rifle in 338 Lapua – The Good
The Savage 110 BA is accurate, reliable and probably one of the best values in a long range 338 Lapua rifle out there.
A massive muzzle brake combined with the rifle's weight help keep recoil down tremendously. The Accu-Trigger really comes into its own on this rifle and breaks exactly where you want it to, depending upon your setting.
Savage Arms 110 BA Rifle in 338 Lapua – The Bad
If we had one complaint it would be the sheer weight of the Savage 110 BA Rifle.
On another note, unless you can fully take advantage of the long range capabilities of the round between 600 and 1000 yards and perhaps even longer, we advise another caliber. When you have a rifle that feeds $5 bills with each shot, you want to wring out its maximum potential. Savage offers the rifle in 300 Winchester Magnum and a newer platform is out in the form of the 110-BA Stealth. ( http://www.savagearms.com/firearms/model/110BAStealth/ )
Savage Arms 110 BA Rifle in 338 Lapua – The Reality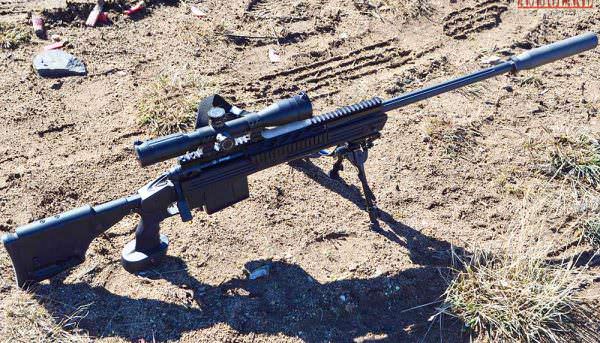 Although marketed as a police or tactical rifle, the Savage will probably see very limited usage in this role. The 338 Lapua was developed for the 1000 yard and longer ranges. As we have written earlier, this is simply too long for most police departments due to the liability and morality associated with engaging a target that is not a direct threat to the officer. Unlike the 50 BMG rifles which can be used at similar ranges, the 338 Lapua round was not designed for destruction of equipment and vehicles.
For a long range shooter the Savage Arms 110 BA Rifle in 338 Lapua represents an entry-level-plus rifle at a very competitive price.
Savage Arms 110BA Rifle in 338 Lapua Specifications:
Caliber: .338 Lapua Mag.
Capacity: 5-round detachable box magazine
Features: AccuStock, AccuTrigger; and
Action: Bolt
Stock: Aluminum
Material/Finish: Carbon steel/matte black
Weight: 15.75 pounds
Barrel Length: 29.5″
Overall Length: 50.5″
MSRP $2200.00 (Less Online)
---
Bounus Savage Arms 110 BA Rifle Video:
---
About Mike Searson
Mike Searson's career as a shooter began as a Marine Rifleman at age 17. He has worked in the firearms industry his entire adult life as a Gunsmith, Ballistician, Consultant, Salesman, Author and was first certified to teach firearms safety in 1989.
Mike has written over 2000 articles for a number of magazines, websites and newsletters including Blade, RECOIL, OFF-GRID, Tactical Officer, SWAT, Tactical World, Gun Digest, Examiner.com and the US Concealed Carry Association as well as AmmoLand Shooting Sports News.
Home page: www.mikesearson.com
FB: www.facebook.com/mike.searson
TWITTER: www.twitter.com/mikesearson