PLANO, Ill. -(Ammoland.com)- Eric Brandriet may be the sneakiest ice fisherman in America. The South Dakota fishing guide dodges cutthroat competitors on and off the water, many of whom use binoculars in attempts to glean intel on Brandriet's pursuits.
All winter long, amongst some of the heaviest ice fishing pressure on the continent, Brandriet continues to ice fish after fish, without anyone even knowing.
Brandriet flies under the radar by necessity. Growing up in the South Dakota glacial lakes region, Brandriet witnessed the evolution of ice fishing and the technological ice fisherman, right at his doorstep.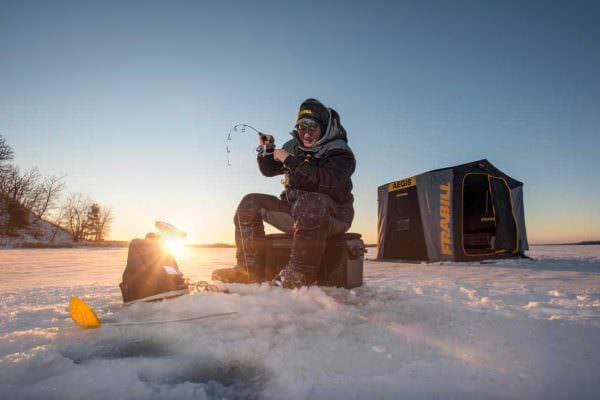 Through the early part of this century, the region experienced a huge influx of water – lakes popped up everywhere – turning a decent fishing destination into an ice fishing mecca. And as more anglers pushed the fish, Brandriet observed the fish pushing back.
"We have extremely pressured fish, both perch and walleye," says Brandriet. "It's like fishing cold front conditions all the time."
To combat such pressure, Brandreit starts with the basics. "Downsizing is now the name of the game. More than anything else, I'm constantly turning to smaller spoons and tungsten jigs for perch and walleye."
As the adaptable angler modified his terminal tackle, Brandriet's evolving finesse tactics also required changes in his rods. Working on the design team for Frabill, Brandriet developed two specifically suited to his style of fishing.
Seventy-five percent of Brandriet's fishing calls for his namesake Eric Brandriet Model 678003 26" L Perch / Finesse Walleye Ice Hunter Combo. "This rod can accommodate anything we do in South Dakota," Brandriet says of the rod that is sensitive enough to detect the subtlest bites, while retaining the ability to accommodate a variety of lure sizes. "It's light, but it will still catch a big walleye."
Brandriet takes his finesse routine to the extreme when matching rod to line. "I use 4-pound fluorocarbon. I don't like braid because I can't get the subtle action I want out of the lure like I can with fluoro," he says, quickly offering additional clarification on the preferred lure movement: "the spikes move, but the jig doesn't."
When the bite heat up at nearby Lake Oahe, Brandriet follows suit, typically fishing deeper, and often for larger fish. There, he calls on the Eric Brandriet Model 678005 27" ML Jumbo Perch / Walleye Ice Hunter Combo. "At Oahe, we fish out to 60 feet, which typically requires a larger lure; so I match it up with a little heavier rod," he says. "This one has a soft, sensitive tip, but it retains surprising power."
Both of the Frabill sticks designed and used by Brandreit are a bit short by South Dakota standards. At one time, the angler chose rods up to 35" in length. So what gives?
"There's a couple reasons for a little shorter rod," the ice hunter shares. "First, the rods are easier to fish inside a shelter. And when we fish outside, a shorter rod lets me kneel down right over the hole."
Why is that significant? "I can cover up the fish," he answers. "Out there, everybody's watching."