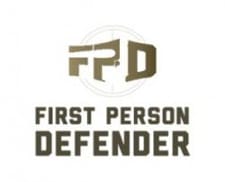 MANDEVILLE, La. -(Ammoland.com)- Season 4 of First Person Defender keeps the excitement coming with two new episodes! In the episode "Young Woman Attacked in Home," our participant is new to shooting and doesn't practice concealed carry.
But, when an intruder attacks, she'll learn that easy access to a firearm can mean the difference between life and death.
Then, in "Bystander Attacked by Man Assaulting his Wife," things get violent when an abusive husband takes his anger out on innocent bystanders. Our Defender will either need to act, or become a victim.
Keep watching "Defender Week" for more "ripped from the headlines" scenarios!
New episodes from Season 4 are released daily at midnight Central through Dec. 4th, on Gun Talk Media's YouTube and Facebook pages, plus Gun Talk's Roku, Amazon Fire TV, and Apple TV channels, and enjoy past seasons of First Person Defender here:
And, don't forget, in celebration of "Defender Week," DoubleTap Ammunition is offering 15 percent off all purchases through December 4 online when you use the code FPD16!
First Person Defender is a web television series from GunTalk Media that puts regular people with varying degrees of firearm knowledge into force-on-force self-defense scenarios using Simunition conversion kits and FX Marking Cartridges.
First Person Defender gives viewers a unique first-person look at what it's like to defend your life or the lives of your loved ones.
"Gun Talk" and "First Person Defender" are registered trademarks.
About Tom Gresham's GUNTALK Radio:
In its 21st year of national syndication, Tom Gresham's GUNTALK radio show airs live on Sundays from 2PM-5PM Eastern, and runs on more than 200 stations every week. Listen live on a radio station near you (http://guntalk.com/site39.php) or via live streaming from one of the stations here: http://guntalk.com/site38.php. All GUNTALK shows can also be downloaded as podcasts at http://www.guntalk.libsyn.com, Apple iTunes, and i-Heart radio, or through one of the available Apps: GunDealio for iPhone, GunDealio for Android, Gun Talk App on Stitcher, the Gun Talk iPhone App, and the Gun Talk App for Android on Amazon. GUNTALK can also be heard on YouTube, at http://bit.ly/144G3OU. More information is available at http://www.guntalk.com.
("GUNTALK" is a registered trademark.)
About First Person Defender:
First Person Defender is a web television series produced by Gun Talk Media. The entire series is available for free on Gun Talk's YouTube channel, and also at Gun Talk's video website.
("Gun Talk" and "First Person Defender" are registered trademarks.)