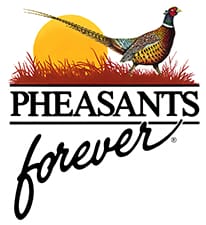 ST. PAUL, Minn. -(Ammoland.com)- Pheasants Forever was recently presented with the 2016 National Land Protection Award by the U.S. Fish & Wildlife Service (USFWS) for the organization's outstanding efforts to permanently protect critical habitat for pheasants, waterfowl, and other wildlife.
Since 2009, this dual partnership has acquired more than 9,800 acres in the state of Minnesota which are now open to public hunting and recreation in the form of Waterfowl Production Areas.
"We're honored to have Pheasants Forever as a partner in Minnesota. Thanks to their dedication and support, the U.S. Fish and Wildlife Service has been able to accelerate its Waterfowl Production Area Program, conserving an additional 9,800 acres in the state since 2009," stated Eric Alvarez, chief of realty for USFWS. "In 2015, Pheasants Forever was successful in obtaining a grant for $7,280,000 from the Minnesota Outdoor Heritage Fund. This grant helped Pheasants Forever conserve additional lands throughout Minnesota in support of critical wildlife habitat. We appreciate this collaborative partnership and look forward to more work in the future. The National Land Protection Award presented to Pheasants Forever is well-deserved."
Pheasants Forever and its chapters have put a priority on acquiring lands that are critically important as wildlife habitat.
In fact, seventy-five percent of Pheasants Forever members rate habitat preservation on public land as a main benefit of belonging to the organization.
Since the inception of Pheasants Forever in 1982, "The Habitat Organization" has participated in more than 1,470 different land acquisitions totaling more than 184,000 acres. Those land acquisition projects have been completed in conjunction with local, state, and federal natural resource agencies, and all the projects permanently protect habitat that is open to public hunting.
The U.S. Fish & Wildlife Service remains one of the most important partners of Pheasants Forever and its quail division, Quail Forever, for the permanent protection of public lands across the country.
"Pheasants Forever is honored to receive this prestigious award from one of our most valued conservation partners who shares a similar vision to conserve and restore wildlife habitat," stated Eran Sandquist, Minnesota state coordinator for Pheasants Forever. "We look forward to the continuation of an incredible partnership that is helping to manage wildlife populations and provide public hunting opportunities in Minnesota and throughout the United States."
The efforts of Pheasants Forever to acquire Waterfowl Production Areas in the Prairie Pothole Region of the Minnesota are strongly supported, in part, by the following grant partners:
Minnesota's Outdoor Heritage Fund:
Thirty-three percent of the sales tax revenue from the Clean Water, Land and Legacy amendment is distributed to the Outdoor Heritage Fund. Those funds "may be spent only to restore, protect, and enhance wetlands, prairies, forest and habitat for fish, game, and wildlife."
Pheasants Forever, along with many other non-profit and conservation-minded organizations in Minnesota, have partnered on an annual basis to accelerate its land protection efforts.
NAWCA:
The North American Wetlands Conservation Act was established in 1989 to provide matching grants for organizations and individuals who have developed partnerships to carry out wetlands conservation projects in the United States. As part of the Act, both the Migratory Bird Conservation Commission and Northern American Wetlands Conservation Council were formed to recommend and approve worthy conservation projects.
From September 1990 through March 2014, some 5,000 partners in 2,421 projects have received more than $1.3 billion in grants. They have contributed another $2.7 billion in matching funds to affect 27.5 million acres of habitat.
NAWCA funding is awarded through a Standard and a Small Grants Program.
About Pheasants Forever:
Pheasants Forever, including its quail conservation division, Quail Forever, is the nation's largest nonprofit organization dedicated to upland habitat conservation. Pheasants Forever and Quail Forever have more than 145,000 members and 700 local chapters across the United States and Canada. Chapters are empowered to determine how 100 percent of their locally raised conservation funds are spent; the only national conservation organization that operates through this truly grassroots structure. Since creation in 1982, Pheasants Forever has spent $634 million on 502,000 habitat projects benefiting 14.1 million acres nationwide.
Pheasants Forever is dedicated to the conservation of pheasants, quail and other wildlife through habitat improvements, public awareness, education and land management policies and programs.