By David Codrea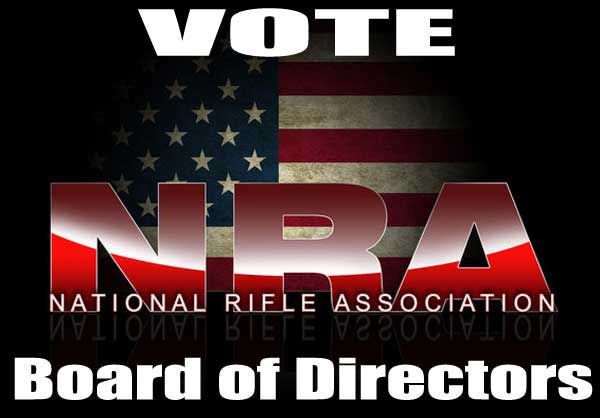 USA – -(Ammoland.com)- The latest issue of the member magazine from the National Rifle Association is out in this week's mail. It contains the ballot for the 2017 Board of Directors election, as well as some Bylaws amendments desired by NRA management.
The election is an annual event, where voting members, identified in the Bylaws as those with five or more years of consecutive membership and/or those with Life or higher-level memberships, can pick a third of the board. And it's a time when candidates vying for a seat receive endorsements, something that's especially critical to those who don't get the nod from the management-loyalist Nominating Committee.
One of the ways these "independent" candidates amplify their chances is by asking supporters to "bullet vote," that is, voting for them only, as marking votes for multiple candidates dilutes a voter's power (see Jeff Knox's elaboration on how that works). Another is by getting organizations, such as state advocacy groups, and/or prominent individuals with whom members are familiar, to endorse them and campaign on their behalf. You'll see a lot of that over the coming months (April 9, is the last day the ballots must be received by).
Overall, don't expect many surprises. Expect the Nominating Committee to pretty much get its way.
Why?
First, because perception of NRA's "Winning Team" success is strong with the Trump win. In a way it's ironic, as he's the candidate who set the establishment on its head.
Also, because gun owners who question the way current management does things are in the minority, and that's especially true among NRA voting members. Only an estimated seven percent of them even bother to return their ballots according to Knox. Even when an issue of great controversy arises, such as last year's recall attempt over director Grover Norquist, no upsets were expected and none happened.
That's' a big reason why I stopped posting my NRA Director Candidate Questionnaire. That was based on an earlier political candidate questionnaire which, if nothing else, helped expose a disconnect between grades and endorsements in the Harry Reid/Sharron Angle race back in 2010 (not that it mattered).
The questionnaire was designed to elicit unequivocal responses to show how hard core an erstwhile gun owner rights leader truly is. So naturally, there's not much interest among the establishment types to do that.
Still, even knowing this is an exercise in spinning wheels, at least for the foreseeable future, conscience dictates I record my concerns. So in addition to the linked questionnaire, I'm adding two questions:
All credible polls (see here for a list of more corroborating sources), not to mention the real-world experience in states like California, show long-term (meaning unchanged after decades of "assimilation") and overwhelming support for Democrats and "gun control." Adding millions to the voter rolls via a "pathway to citizenship" will result in unchallengeable legislative majorities to enact disarmament laws and unstoppable "progressive" court appointments to uphold them. That will destroy all options except resistance. Do you agree that politicians should be held accountable in their NRA grades for immigration actions that undermine the Second Amendment? If "No," and if falling back on the "single issue" excuse, provide credible and testable evidence – not anecdotes and not just opinions — to show that will not happen.
Do you support or oppose the Bylaws amendments?  Explain.
Speaking of the Bylaws amendments, here they are, or at least a testimonial for them from NRA President Alan Cors, who urges a "Yes" vote. Essentially, he and Fairfax management want to require more signatures to become a candidate and to initiate a recall, "to seek dismissal of a future petition that might be frivolous, malicious, or disruptive, with fair appeals of those decisions by both sides" (with the outcome decided by the same people who label them "frivolous, malicious, or disruptive") and to change the way Bylaws are voted on.
Not that my voice will make a difference, but I'm against anything that makes it harder for a Nominating Committee outsider to run for the board.  This has all the feel of the primary motivation being one of circling the wagons, securing power, and excluding new blood. Even with the internet, it's no easy task to get 250 actual signatures from members, and raising that number shows a level of commitment that deserves to be heard.  As for the recall changes, I don't buy that we can just wait the guy out until his term expires.  When they've got establishment connections, even if you do, they'll still be re-elected with full Association backing and publicity.  And as for the "alternative" of filing an "ethics complaint," here's an example of one that was properly submitted and then ignored without so much as an explanation (and that inaction in itself is a violation of the Bylaws).
Speaking of the Bylaws, here's one other action I've called to have happen for years: Post the current revision online on the NRA website.  I just got off the phone with NRA Member Services and confirmed that's a directed decision. And copyrighting them makes it problematic for someone who wants to post an unauthorized copy.
Members should be able to have easy access to the Bylaws, if for no other reason than to hold paid staff and elected directors to expectations of compliance, much as we can with holding our political leaders accountable for adhering to the Constitution. And to facilitate feedback, the Association ought to maintain an online contact page for members to send all and/or individual directors their concerns and expectations.
In any case, what I want won't be a consideration. If you want to use my questionnaire or create one of your own, go for it. Just expect the final results to closely track what the Nominating Committee recommends, that is, what Wayne LaPierre and Chris Cox want to see happen.
As for who I'm endorsing, if someone wants this Life Member's vote, see above for my support criteria. Not that I expect any candidate to want to risk their chances by publicly agreeing with me…
About David Codrea:
David Codrea is the winner of multiple journalist awards for investigating / defending the RKBA and a long-time gun rights advocate who defiantly challenges the folly of citizen disarmament.
In addition to being a field editor/columnist at GUNS Magazine and associate editor for Oath Keepers, he blogs at "The War on Guns: Notes from the Resistance," and posts on Twitter: @dcodrea and Facebook.